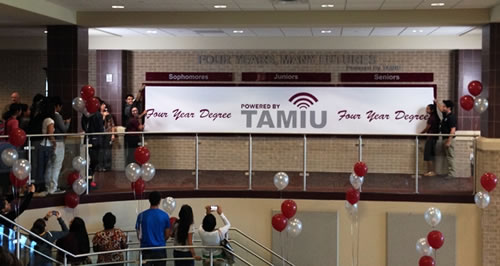 Sophomore Success Experience
Welcome to your sophomore year! TAMIU's Sophomore Success Program is dedicated to making your second year experience as rewarding and effective as your freshman year. We offer a variety of student support services across campus exclusively for sophomores. 
---
---
Our mission is to enhance the sophomore experience by providing academic support services, engaging sophomores through community service and building relations with faculty to enhance excellence in lifelong learning and student success.
---
---
SOPHOMORE SUPPORT SERVICES:
Advising
Peer to Peer Mentoring
Personal Counseling
Career Counseling
Tutoring and Supplemental Instruction
Service Learning Courses
Student Wall Recognition-"Four Years, Many Futures"
FACULTY SUPPORT SERVICES:
Service-Learning Instruction

Professional Development
Guest Speakers
Faculty Surveys

---

Contact information:
Sylvia O. Praesel, M.A.
956.326.2808