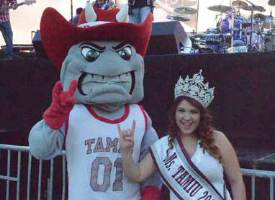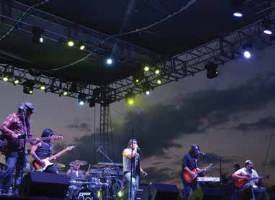 FBI Lecturer Talks
Health Care Fraud with
TAMIU Nurses
AUTMUS FEST 2013
The TAMIU Alumni Association's ninth annual AutMus
Fest was a night to remember filled with excitement from the
border area. Held every year in October, the Autumn Music
Festival serves as a reunion to bring together alumni, faculty,
staff, students and friends alike to celebrate vibrant musical
Headlining this year's festivities was Journey's former
lead vocalist Steve Augeri and the Chris Perez Project. This
year's event was home to a variety of entertainment, boasting
two stages, 11 local and internationally renowned bands, and
performances by the Laredo Wrestling Alliance.
As one of the longest standing traditions at TAMIU, all
AutMus Fest proceeds support scholarships for TAMIU
students. With over 5,000 people in attendance and over 150
volunteers, the TAMIU Alumni Association was pleased to
announce a gift of $10,000 for student scholarships.
For more information about AutMus Fest, visit
Future TAMIU nurses received critical insight into
healthcare fraud (HCF) from a guest Federal Bureau of
Investigation (FBI) lecturer this Spring.
Calling them a vital resource in building awareness
of health care fraud, Supervisory Special Agent L. Tuleta
Copeland told students about the severity of HCF nationwide.
"The U.S. lost over $80 billion last year to HCF, monies
that are of course much better distributed to those who need
health care," Copeland explained, "HCF often harms patients,
frequently involves theft of federal funds, usually occurs
along with other crimes such as identity theft, trafficking of
narcotics, contributes to the rise health care costs and affects
the medical community's reputation."
She reminded the students that they are part of the solution.
"As soon-to-be full members of the medical community,
you will share in the responsibility of helping to reduce HCF.
We're looking to you to help us to identify abuse and fraud as
nursing professionals," she explained.
Dr. Glenda Walker, dean of the College of Nursing and
Health Sciences' Dr. F.M. Canseco School of Nursing, said
the presentation helped prepare senior nurses for real-world
"Our graduates are on the front line and their profession
may expose them to HCF. Nurses are advocates for strong
healthcare. Anything that diminishes the strength of the
healthcare system should be addressed by nursing," Dr.
TAMIU's College of Nursing offers a BSN degree, a
completely online RN to BSN completion degree, a Master
of Science in Nursing and a Master of Science in Nursing
For more on TAMIU Nursing Programs, contact the
Dean's Office at 956.326.2574, email Glenda.walker@tamiu.
edu or visit offices in Dr. F. M. Canseco Hall.