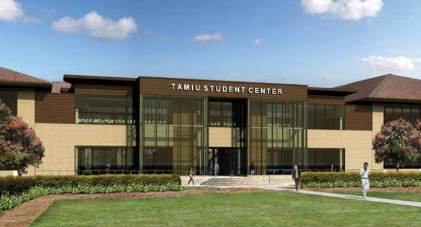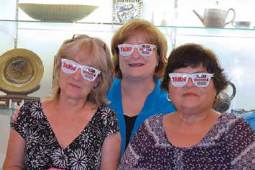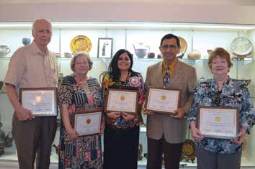 Latest
Student
Center
Expansion
Near
Completion
The Texas A&M International
University Student Center
expansion is expected to be completed by the end of 2013 and open early in the 2014 Spring Semester.
The project has three parts: more room for Dusty's Diner to increase seating and install a larger salad bar; a new addition
for Dusty's Den, the student game room, on the first floor, and a second floor computer lounge for students.
The expansion, funded by a fee increase approved by student vote in Spring 2013, provides a two-story addition connecting
the north and south sides of the Student Center across the east and end patio. The existing patio will be enclosed on four sides,
but remain open from above, allowing for shaded outdoor events.
The Student Center was constructed in 2002 when the University's student population numbered about 3,300. A renovation
in 2011 expanded dining space to accommodate the University's mushrooming enrollment, which now exceeds 7,000.
While there was a good amount of joy, it was
tempered with the tinge of sadness as a group of
beloved TAMIU faculty and staff were feted this
Spring at a special retirement send off.
Among the group of six retiring faculty members
and three staff members, some 221 years of service
to the University and its students had been provided.
Some of those retiring could trace their service back to
the campus' first downtown location and traded barbs
and memories with equal speed.
Among faculty members retiring with a combined
153 years of service were Dr. Rex Ball, Dr. Lila
Canizales, Dr. Stanley Green, Dr. Cathy Guerra, Dr.
Juan Lira and Dr. Carol Waters. Retiring staff members
included Norma Maciel, Janet Salinas and Debbie
Segovia, retiring with a combined 68 years of service.
TAMIU president Dr. Ray Keck offered a
bittersweet summary to the retiring group.
"While we are happy that you now embark on
your well-deserved next chapter, we will miss you
tremendously. All of you, as faculty and as staff,
have encouraged, supported and made it possible for
thousands to realize their higher education and career
dreams. Your work has been real and it has been
relevant. We are humbled by your service and hope
that others will follow your fine example," Dr. Keck
TAMIU Bids Happy Trails to Retiring Faculty, Staff