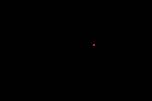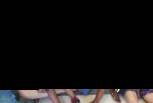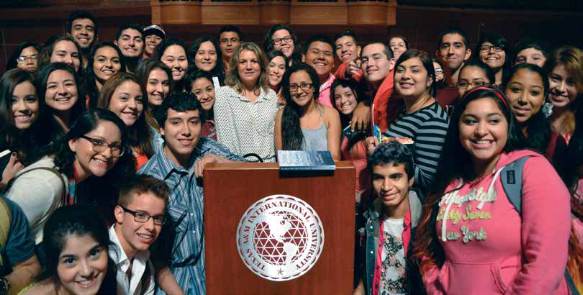 Reading the Globe Experience
Transports TAMIU Students
A world of unspeakable horror and the
immutable power of hope anchored the discussion
led by The River Runs Salt, Runs Sweet—A Young
Woman's Story of Love, Loss and Survival author
Jasmina Dervisevic-Cesic at Texas A&M International
University's "Reading the Globe" program this Fall.
Part of the University's Common Read
experience, the lecture brings TAMIU freshmen and
the author together to discuss the text they have
It is always a powerful experience and Dervisevic-
Cesic captivated students with her wrenching, first-
hand experience as the first Bosnian refugee granted
permission to seek medical care in the U.S. for
prosthesis for her right arm and treatment of wounds
on her legs. She also lost her husband, two brothers,
uncle, grandmother, and countless friends.
Reading aloud from her book, Dervisevic-Cesic
"My losses happened to come all at once—
personally, physically and emotionally. I lost some of
my faith in humanity when I discovered that people
who were your best friends one day could conspire
to destroy you the next. And there were more losses
beyond that. Ultimately, I lost almost everything that
many of us would call a normal life..."
Reading the Globe participants also compete
for the opportunity to become part of a limited group
that furthers the Reading the Globe experience
through study-travel. This year, the group will travel to
Last year, students traveled over 9,200 miles
on a 19-hour flight to South Africa, site of last year's
Reading the Globe selection, Mark Mathabane's
bestseller, "Kaffir Boy: The True Story of a Black
Youth's Coming of Age in Apartheid in South Africa."
This is the seventh year that Reading the Globe
has offered its program. It receives funding support
from Humanities Texas, the State affiliate of the
National Endowment for the Humanities.
Visit an online gallery of past "Reading the
Globe" study-travel programs,including Turkey, Chile,
To learn more about last year's program to South
CULT I VAT I NG L EADERSH I P
Alexzandra Flores meets children at a Cape Town nursery school; a sunset enjoyed by students on Cape Town beach; wild life at the Lion
and Rhino Park, students Alexzandra Flores and Alexa Vázquez make their mark on the map too!