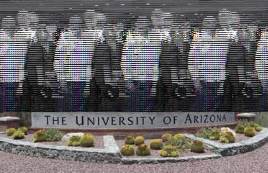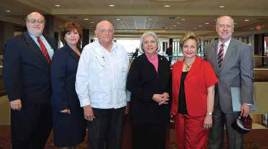 Law enforcement will have better tools to identify
and rescue victims of domestic trafficking because
of research conducted this summer by Dr. Claudia
E. San Miguel, TAMIU College of Arts and Sciences
department of Public Affairs and Social Research chair
and associate professor of Criminal Justice, and María
Del Rosario Benavides, graduate student, sociology,
and Andrea Almendarez, undergraduate sociology
Dr. San Miguel, Benavides and Almendarez,
spent 10 weeks in Tucson, Ariz., thanks to a summer
research fellowship from the Department of Homeland
Security Center of Excellence to study human
trafficking in the U.S. with particular focus on minors.
"Our country leads the way in terms of the
rescue, rehabilitation, and reintegration of victims.
What is needed, however, are more resources to
combat human trafficking. Our research will help all
key groups identify the push/pull factors that make
individuals vulnerable to this crime and this will greatly
help to rescue victims of human trafficking," San
The team focused on building profiles of
domestic, minor and male victims of trafficking and
identified key risk factors or vulnerabilities that make
They worked with several agencies and
organizations in the Tucson and Phoenix area.
For more information, contact San Miguel at
"Our country leads the way in
terms of the rescue, rehabilitation,
and reintegration of victims. What
is needed, however, are more
resources to combat human
trafficking,"
Dr. Claudia E. San Miguel
TAMIU Professor, Students Complete
Human Trafficking Study in Ariz.
EXEMPL I F I Y I NG EXCE L L ENCE
TAMIU Launches Texas Academy
of International and STEM Studies
Texas A&M International University in April
launched an innovative, University-level academy
on its campus for highly gifted and motivated high
school juniors and seniors focusing on STEM (Science,
Technology, Engineering and Math) and International
Enabled by legislation authored by State
Senator Judith Zaffirini and approved by the 79th
Texas Legislature in 2005, The Texas Academy of
International and STEM Studies provides selected
students with a challenging University-level curriculum.
A cohort of 50 students selected this year receive
free tuition, fees and books and pursue University
degrees in the area of their choice. They can also
explore research and collaborative educational
opportunities with project partners the University of
Texas Health Science Center of San Antonio's Laredo
Upon completion of the Academy, students will
have earned their high school diploma concurrently
with college credits toward a bachelor's degree and
enter their junior University year.
Dr. Patricia Uribe, Academy director and TAMIU
Independent School District Superintendent, said
the competitive and purposefully designed program
allows students to enroll in an accelerated and
rigorous STEM curriculum.
"University credits earned are transferable to
any public university in the state of Texas," Dr. Uribe
Pictured from left to right are: Dr. Pablo Arenaz, TAMIU provost and vice
president for Academic Affairs; Dr. Patricia Uribe, Academy director; Frank
Staggs, Academy benefactor; State Senator Judith Zaffirini; Dr. Gladys
Keene, regional dean of the University of Texas Health Science Center San
Antonio Laredo campus; and Dr. Ray Keck, TAMIU president.