SL Projects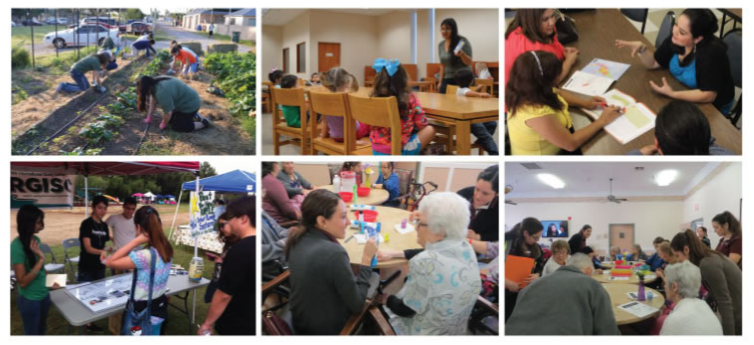 Service-learning is an educational experience where students participate in a course paired with an organized community service. This pedagogical strategy uses experiential learning to integrate academic material, service, and critical reflection to achieve academic and personal goals in addition to enriching the community.
The courses below have integrated service-learning into their classrooms and work closely with Service-Learning Center staff. Theses courses provide students not only with academic learning but also with a sense of civic responsibility during their education in TAMIU. Service-learning opportunities enhance students' core competencies to become excellent professionals, active participants, and leaders in the community.
College of Education
Service-Learning Class: Language Arts in Spanish (EDBE 4336)
Instructor: Dr. Sergio Garza
Community Partner: Consulate General of México (Consulado General de México)/ Holding Institute
Offered: Fall and Spring
The Bilingual Education Program and Consulate General of Mexico work collaboratively in the program Plazas Comunitarias. Plazas Comunitarias provides education services for adults, at the literacy, primary and secondary levels of education to the Latino immigrant population in the Laredo area. The Mexican National Institute for Adult Education developed the adult education program and lifelong learning initiative (INEA by its Spanish initials). Students in this class tutor Spanish-speaking adults while acquiring academic Spanish that will be applied in their profession as bilingual educators. The service-learning partnership increases students' awareness of issues related to low literacy levels in the Spanish speaking community, support the efforts of the Mexican consulate to provide adult education to Spanish speakers, and enhances students' civic responsibility of TAMIU students participating in the program.
Service-Learning Class: Issues in Curriculum & Instruction (EDCI 4399)
Instructor: Dr. Sergio Garza
Community Partner: Bethany House of Laredo/ Luz de Esperanza
Offered: Fall and Spring
Bethany House of Laredo provides children a weekly learning program, Luz de Esperanza.  TAMIU students enrolled in Issues in Curriculum & Instruction collaborate with Luz de Esperanza by tutoring and developing a number of learning activities every Saturday during the semester. Students in the course and staff at Bethany House of Laredo work together to create activities for children and provide them with educational tutoring needed. This partnership allows students to practice their teaching skills while gathering a deeper understanding of issues that affect children of low income. In addition, the students assist staff at Bethany House of Laredo to provide services for children who participate in numerous events.
Service-Learning Class: Clinical Practicum (CSDO)
Instructor: Melissa Garcia, M.S., CCC-SLP
Community Partner: Dr. Erik's Ear, Nose, and Throat Clinic
Offered: Fall and Spring
Senior clinicians in the course participate in a diagnostic team, completing screenings at the Ear, Nose, and Throat Clinic. This course provides clinical practice to speech language pathology and audiology. Students are able to practice their skills in diagnostics in a real-world setting by assessing clients in the clinic and providing needed information for parents and caregivers.
Service-Learning Class: Introduction to the Teaching Profession (EDCI 1102)
Instructor: Dr. Sergio Garza & College of Education faculty
Community Partner: Boys and Girls Club of Laredo and Communities in Schools
Offered: Fall and Spring
The Boys and Girls Club of Laredo provide Laredo children different opportunities to learn in their after school programs, ranging from Math tutoring to game room activities to keep children active.  Boys & Girls Club of Laredo and TAMIU have an ongoing partnership in which TAMIU students provide tutoring and support services at the three Boys & Girls Clubs. This experience immerses future college of education students and exposes them to a real world experience as they complete 10 hours of service. Future plans between Boys & Girls Club and TAMIU include incorporating a healthy component to the after school activities to promote healthy eating habits and exercise in Laredo youth.
In addition, Communities in Schools is a new partnership between EDCI 1102 and Laredo schools, which allows TAMIU students to tutor in elementary, middle, and high school settings.
Service-Learning Class: Multicultural/Multilingual Issues in Communication Disorders Study Abroad in Belize
Instructor: Melissa Garcia, M.S., CCC-SLP
Community Partner: Stella Maris School (Belize) and Texas A&M University Kingsville
Offered: Wintermester
This International Service-Learning Wintermester course allows students to explore leadership, learning, and service in the context of speech and language development of diverse populations. The study abroad course partners with TAMUK and Stella Maris School, the largest special education school in Belize City, Belize.  The course presents students with the unique opportunity of performing assessments and interventions in a culturally and linguistically diverse population. Through peer-led reflections and guided journals TAMIU students examine their experiences and clinical perspectives related to communication disorders.
Service-Learning Class: Adult Neurological Disorders (CSDO 4336)
Instructor: Ms. Rosa Robledo
Community Partner: Regent Care Center
Offered: Spring
Regent Care Center provides rehabilitation and medical services for their residents. TAMIU students visit the center and create activities with the staff for the residents. This enables the students to understand the communication process across the lifespan and identify language and hearing disorders. In addition, the students are able to implement evidence-based intervention programs and enhance their skills as they solve clinical problems. In this course, students' combine academic instruction, service, and reflective thinking to enhance and foster their communications skills. In class students discuss the theories and concepts of communication as they engage with the adult population and understand the effects of neurological disorders.
Service-Learning Class: Introduction to Audiology (CSDO 3313)
Instructor: Dr. Sumalai Maroonroge
Community Partner: Various Community Settings
Offered: Fall
Introduction to Audiology prepares students to implement clinical skills, through sound measurement and hearing evaluations. Dr. Maroonroge partners with various Laredo organizations to provide services and allow the students in the communication track to learn about audiology assessment. Future plans include: testing noise levels in areas of Laredo and audiology tests for the Laredo community. 
College of Arts & Science
Service-Learning Class: American National Government
Instructor: Dr. Peter F. Haruna
Community Partner: Lamar Bruni Vergara Environmental Science Center (LBVESC)
Offered: Spring (Honors Program)
This course explores national government structure, the rights and obligations of citizens, political parties, and organizations. Dr. Haruna partners with the LBVESC to promote active civic participation in students, monthly cleanups take place in the Paso del Indio Nature Trail, which allows Laredoans to explore nature and learn about local history. Students devote one Saturday to the non-profit organization to benefit the Laredo community and learn about citizenship.
Service-Learning Class: Teamwork and Communication
Instructor: Ms. Ariadne Gonzalez
Community partner: Various 
Offered: Spring
Students develop effective teamwork, group processes, problem solving, and leadership skills as they explore communication skills in the context of organizational and professional settings. As part of the service-learning component, students render meaningful service to several non-profit organizations. The goal of the course is to help students understand teamwork communication as they practice their skills with a non-profit to address issues that can produce a change in the partnering organization.
Service-Learning Class: Practicum in Electronic Media
Instructor: Dr. Gilberto Martinez
Community Partners: TAMIU offices 
Offered: Fall
Students in this course will learn about the art of podcasts.  Through the course students will learn firsthand how to operate equipment for podcasts and acquire the skills needed to effectively communicate during podcast interviews. Students in the class work with various departments around the TAMIU campus to create special podcasts dedicated to each department. The service-learning project aims to increase awareness of TAMIU events, programs, and opportunities to all TAMIU students, while increasing the capability of the practicum students.
Service-Learning Class: Chicana/o Literature
Instructor: Dr. John Dean
Community Partners: Webb County Heritage Foundation of Laredo
Offered: Varies 
This course explores poetry, fiction and drama from a historical and thematic approach of literature written by Mexican Americans from 1848 to present. Students will actively participate in conducting research, in planning, and in producing a five-minute group video using select assigned readings from this course and archival materials provided by the Webb County Heritage Foundation of Laredo. Videos will be shown at both the Service-learning Expo at TAMIU and at the Villa Antigua Border Heritage Museum. The Laredo public will be invited to this film festival to explore Chicano/a histories and cultures extend beyond literature.
Service-Learning Project: International Leadership Capstone Project
Instructor: Ms. Teresa Renn and Dr. Minita Ramirez
This course explores leadership in an international context and setting. Students participating in this faculty-led study abroad experience will explore international leadership content while immersing themselves in the culture of the site country. Upon return to the United States, students will have one semester to complete an independent project with regular consultation from the faculty member. This capstone will include an analysis of their experiences prior, during and after the trip abroad and will build upon their experiences in other courses from the leadership minor.
College of Nursing and Health Sciences
Service-Learning Class: Community Health Nursing
Instructor: Ms. Rose Saldivar
Community Partners: Partners are located in the City of Laredo, City of Encinal, City of Cotulla, Webb County and LaSalle County
Offered: Fall 
Community health nursing emphasizes the development of knowledge and skills integral to working with communities.  Epidemiological principles will provide the framework for conducting community assessments.  Students will work in mutuality with community groups to assess their health care needs, emphasizing the cultural and environmental contexts of health problems.  In partnership with this group, students will examine the entire range of health needs and resources (folk and traditional) available within this community, identify strengths and weaknesses of those resources, and work in partnership with the community to address its felt needs.
 University College
Service-Learning Class: Learning in a Global Context II (UNIV 1102)
Instructor: Ms. Paty Cantu
Community Partners: Canseco School of Nursing
Offered: Spring
Students in the University Seminar course explore the nursing profession. During the course, students explore different readings related to nursing. Students' participate in the School of Nursing lab and observe upper division courses and their interactions in the lab.  In addition, students help prepare the labs for the upper division students, helping them develop an understanding of necessary care for the nursing equipment.
A. R. Sanchez, Jr. School of Business
Service-Learning Class: Programing Operations Management (Community-Based Research Program)
Instructor: Dr. Balaji Janamanchi
Community Partners: TAMIU Community
This project is specifically designed to provide juniors taking this class an opportunity to promote the sustainability concepts and to serve the local community by spreading awareness and knowledge about different sustainability practices. Students are introduced and made aware of the importance of sustainability concept in business context and  this project is designed to help students to understand this important forward looking management philosophy from multiple perspectives.  The project requires students to interact and survey the campus community about what they already know about sustainability and how one can adopt sustainability practices in a variety of ways in our daily life.
Co-Curricular Service-Learning Programs
Project: Sophomore Leaders Involved in Change (SLIiC)
Instructor: Ms. Teresa Renn
This co-curricular (non-credit) program is specifically designed to provide sophomores an opportunity to put basic leadership principals to practice. Students will focus on the Social Change Model of Leadership to develop projects intended to assist the region, but are capable of producing larger scale projects that can be emulated in other communities. The Sophomore Leaders Involved in Change (SLIiC) program introduces students to the Social Change Model and challenges them to work in groups while develop long-term solutions for the area. The instructor guides groups through the execution and presentation of the service projects at the end of the program.
Service-Learning Course: Alternative Certification Program
Instructor: Dr. Xuesong Wang
Community Partner: H-E-B, Laredo Independent and United Independent School District; City of Laredo Public Library
Offered: Varies
This is a professional opportunity for students completing the Alternative Certification Program. During this project, students engage in the Literacy READ 3 Program in collaboration with H-E-B. The purpose of the program is to provide children, aged 3-5, with early literacy opportunities.  Students facilitate fun reading activities to develop children's love for reading. In addition, students provide parents with nutritious eating information and recipes to foster healthy development.
If you would like to be included in the SL Highlight list, please email us at servicelearning@tamiu.edu.