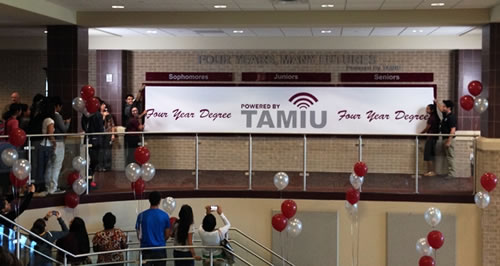 Sophomore Success Experience
OUR STORY:
     TAMIU was awarded the Title V: Engaging Sophomores federal grant from the U.S. Department of Education for a five year period from 2010 to 2015.  The program was created to address sophomore needs on campus and alleviate common stressors known as the "sophomore slump". Recent national studies have concluded that sophomores, in general, tend to feel disconnected from the college experience during their second year in school.  Therefore, our program generated a new approach towards sophomore success.  Our approach is to provide a collaboration between student support services to encourage student engagement at all levels.
        
     Sophomores can better utilize support services provided to them by Title V.  Engaging Sophomores, better known as Sophomore Success, offered student support services such as advising and mentoring, personal and career advising, tutoring, and supplemental instruction.  Each support area contained highly trained staff to provide services exclusively to sophomores.
        
     Apart from student services, our sophomores were offered various service-learning courses every semester to create hands-on experiences in the Laredo region.  The students enrolled in these courses have produced a positive and economic impact for the Laredo community.  Our program also provided professional faculty development such as workshops, guest speakers, and webinars to enhance pedagogical practices at TAMIU.
TAMIU's Sophomore Success Program was a program dedicated to making your second year experience as rewarding and effective as your freshman year.  
---
---
Our mission was to enhance the sophomore experience by providing academic support services, engaging sophomores through community service and building relations with faculty to enhance excellence in lifelong learning and student success.
---
---
SOPHOMORE SUPPORT SERVICES:
Advising
Peer to Peer Mentoring
Personal Counseling
Career Counseling
Tutoring and Supplemental Instruction
Service Learning Courses
Student Wall Recognition-"Four Years, Many Futures"
FACULTY SUPPORT SERVICES:
Second Year Student Support Services
The following support services were provided by Engaging Sophomores staff:
SOPHOMORE RETENTION SPECIALIST

The Advising and Mentoring Center (AMC) provides freshmen and sophomore students with appropriate tools and services towards the building of better and stronger paths.  The staff of the AMC encourages both academic and social exploration through the following services:
SOPHOMORE CAREER COUNSELOR
The Office of Career Services offers career counseling and personal assessments to help you learn about your personality and interests.  We can help you decide on a major and direct you towards the right career path.  We also offer the following services to our sophomores:
SOPHOMORE PERSONAL COUNSELOR
The Office of Student Counseling & Health Services 
provides individual, couples and group counseling and wellness workshops for the mind, body and soul. Our goal is 
to empower students to be capable and competent adults while adjusting to challenges and transitions of University life. 
Individual, group, family and couples counseling available in the following situations: 
SOPHOMORES GET INVOLVED!

Course Description
Sophomore Leaders Involved in Change (SLIiC) invited students that had 30-59 completed hours to be a part of an organization aimed and developing solutions to local, regional, national and international problems. The program culminates in group project completions and presentations to the local community.
Learning Outcomes

Gain personal competencies.

Develop a sense of personal leadership identity.

Build communication and problem-solving skills.

Expand their knowledge of the social change model.