Congratulations Dr. Ramirez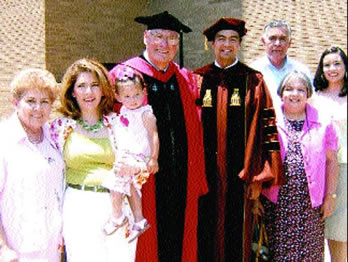 On Saturday, May 21, 2005, Alfredo Ramirez, Jr. '93, '98 received a Doctor of Philosophy degree from the University of Texas at Austin in the Cooperative Superintendency Program Cycle XIV. Upon graduation, Alfredo and his family relocated to Laredo after living in Austin for four years.
Pictured, from left, are Maria V. Chapa, mother-in-law,
Melissa Chapa, wife; Gabriela Ramirez, daughter;
Dr. Nolan Estes, Director of the CSP; Dr. Alfredo Ramirez, Jr.;
Alfredo Ramirez, father, Norma S. Ramirez, mother; and
Alma Celita Ramirez, sister.