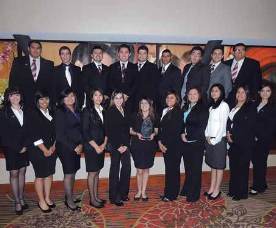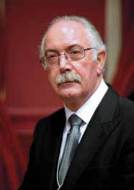 New TAMIU Masters
Includes Translation
Focus
As part of its celebration
translation studies, TAMIU
hosted one of the world's
foremost academicians and
translators of English-Spanish
texts. Dr. Julio César Santoyo
Mediavilla, a professor of
Translation Studies at the
University of León, Spain
visited the campus under a
special lecture grant from
Humanities Texas. His lecture
was titled "A World without
Last year, the Texas Higher Education Coordinating Board
provided its approval for a new master's degree in Language,
Literature and Translation, now a newTAMIU online program.
Dean of the College of Arts and Sciences, Dr. Tom
Mitchell, said the program is uniquely linked to the border
"It builds on the bilingual and bicultural idiosyncrasy
of the border region, training students in dual-language and
translation skills and at the same time providing them with
intensive instruction in one or more disciplines of choice," Dr.
Recent news reports have extolled the burgeoning job
market for translators with CNN reporter Carl Azuz noting
that language skills can move graduates from "fluency to
"Well-educated translators versed in a broad range
of studies are an asset in international business, media or
communications fields and in service sectors, teaching or the
judicial system.  This degree really allows students to build
or capitalize on their language skills and pursue the career of
their choice," Mitchell concurred. 
For additional information on TAMIU's MA in Language,
Literature and Translation, contact Dr. Manuel Broncano,
professor and director of English, Spanish, and Translation
Programs, at 956.326.2471, email manuel.broncano@tamiu.
TAMIU Enactus
Named Regional
Champs in Dallas
The Texas A&M International University student
organization Enactus won the Regional Enactus Competition
The group won for its community service projects, which
included planting a vegetable garden to feed low-income
families in El Cenizo and helping students complete 110
tax returns, successfully securing $120,000 in refunds. With
accurate returns in hand, many students were also able to more
effectively secure financial aid.
Other projects included: helping a local non-profit thrift
store for low-income veterans create a database to record
financial transactions, hosting events to collect canned food
items for veterans, and working with a local bakery to increase
bread production and revenues.
At the Regional Competition, students competed against
representatives from 40 universities and presented their six
projects to a panel of judges.
In addition, another competition project saw 15 Enactus
members earn certification from the Internal Revenue Service
to provide free income tax filing assistance at TAMIU.
Formerly known as Students in Free Enterprise (SIFE),
Enactus is a community of student, academic and business
leaders committed to using the power of entrepreneurial action
to enable human progress. Enactus students apply business
concepts to develop community outreach projects, transform
lives and shape a better, more sustainable world.