Posted: 4/03/17
TAMIU Proclaims April 'Sexual Assault Awareness Month'

Texas A&M International University (TAMIU) designated the month of April as 'Sexual Assault Awareness Month' on its campus during a special proclamation ceremony Monday.
Students in the Sophomore Leaders Involved in Change (SLIiC) program joined TAMIU President Dr. Pablo Arenaz, administrators and staff to kick off a month-long series of events focused on combatting sexual assault and hyper-masculinity.
The SLIiC program challenges students to work in groups, and develop long-term solutions for the community, said Teresa Renn, associate director of Student Orientation, Leadership and Engagement.
"This year, one team has chosen to tackle the topic of sexual assault," Renn said, "In particular, this team is working to focus on one root cause of sexual assault on college campuses: hyper-masculinity."
Hyper-masculinity is a psychological term for the exaggeration of male stereotypical behavior, such as an emphasis on physical strength, aggression and sexuality.
As part of 'Sexual Assault Awareness Month,' students will present a screening of the documentary film, "The Mask You Live In" on Thursday, April 6 at 5 p.m. in Student Center, room 236. The screening is free and open to all TAMIU students, Renn said.
Renn said TAMIU's continued efforts to combat sexual violence throughout the years have impacted students by providing more reporting avenues, resources and support for victims of sexual conduct.
TAMIU continues to expand programming that promotes healthy relationships, conflict resolution, bystander intervention, gender equality and inclusivity, Renn added.
"Through the leadership of the TAMIU Office of Compliance (Title IX) and the Division of Student Success, we are now proud to come together as a campus and make this proclamation so that we may continue to foster sexual assault awareness programs throughout our campus and be a positive change agent in eradicating this nationwide issue."
For more information, please contact Renn at 326.2281, email teresam.renn@tamiu.edu or visit offices located in Student Center 224 C.
University office hours are 8 a.m. – 5 p.m. Monday-Friday.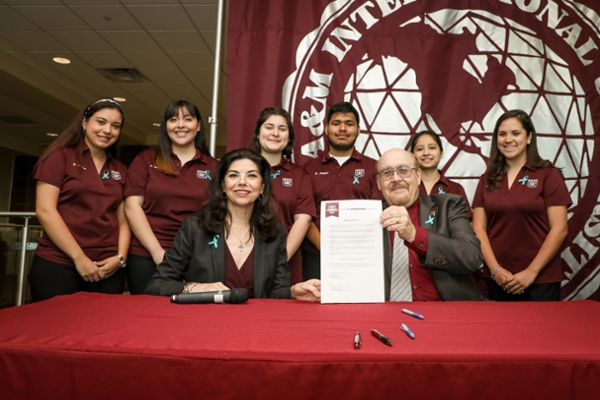 TAMIU President Dr. Pablo Arenaz, right, and Dr. Minita Ramirez, TAMIU vice president for Student Success, left, joined SLIiC program students
as they signed the proclamation.