Department of Psychology and Communication
Menu
Welcome to the Psychology and Communication Department!
Welcome to the Department of Psychology and Communication! Our department includes fields devoted to understanding how human beings think and communicate with one another. We have a number of reknowned scholars in our department who focus on topics ranging from film studies to language development to neuropsychology and rehabilitation to journalism on the border, to personality development to body image and video game violence. We are devoted to teaching based on the most up-to-date science, technology and pedagogy. Take some time to explore our webpage and if you have any questions, do not hesitate to contact us.
Communication in the Americas Research Series
Due to its strategic geographical location on the U.S.-Mexico border, Texas A&M International University has embraced as its mission the establishment, consolidation and growth of academic exchanges between its faculty and students and Ibero -American institutions, scholars and students.
Each semester, the Department of Psychology and Communication hosts the Communication and Media in the Americas Seminar Series. The Seminar Series consists of lectures, talks and/or academic discussions among TAMIU and a Ibero-American university's communication faculty and students, usually through videoconference, about the most relevant issues and topics in the discipline in the context of hemispheric relations and challenges. According to the topic at hand, one TAMIU communication class hosts the videoconference, but all communication faculty and students are invited to attend.
Guest Speakers:
March 18, 2015. Dr. Joseph D. Straubhaar, Amon G. Carter Centennial Professor of Communication in the Department of Radio-TV-Film at the University of Texas at Austin. "Telenovelas and Transnational Media Flows." CAMPUS VISIT.
Feb. 26, 2015. Dr. Wilfried Raussert, Chair and Professor of North American Literary and Cultural Studies and Director of Inter-American Studies at Bielefeld University, Germany. "Fandango sin Fronteras: Music Flows and Diaspora Community Building." CAMPUS VISIT.
Nov. 3, 2014. Dr. Horst Tonn, Department of American Studies, Tubingen University, Germany. "The American culture seen from Europe." CAMPUS VISIT.
Oct. 30, 2014. Dr. Salvador Alvidrez, Political Communication Lab, Universidad Autonoma de Nuevo Leon (UANL), Mexico. "Schematic representations of ethnic minorities in young university students." VIDEOCONFERENCE.
April 28, 2014. Luis M. Contreras, Senior Story Artist for Animation, Columbia College, Chicago."Animated expectations." VIDEOCONFERENCE.
Feb. 27, 2014. Dr. Juan Pinon, Department of Media, Culture and Communication, New York University (NYU). "Spanish-language media in the United States: production, Content, and reception." VIDEOCONFERENCE.
International Activities / Conferences / Lab Projects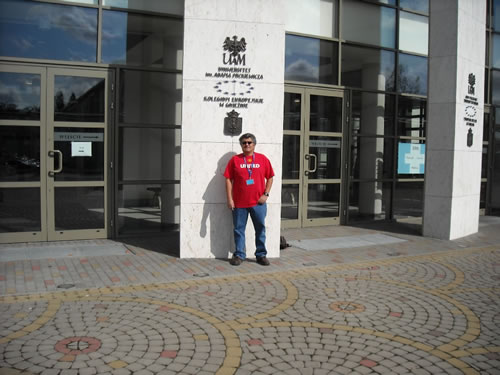 Department of Psychology and Communication, 5201 University Blvd, 301 Canseco Hall, Laredo, TX 78041
Ms. Hortencia Carrillo, 956-326-2465 (o)   956-326-2474 (fax)