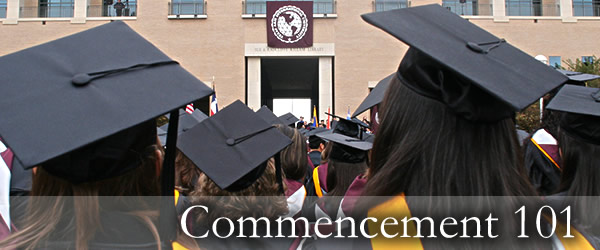 Fall 2010 Commencement Speech
Speaker for Ceremony II - College of Education / College of Nursing & Health Sciences
Renato Ramírez
International Bank of Commerce - Zapata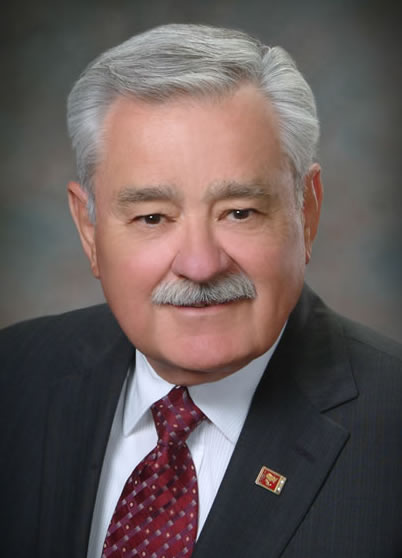 Following is the text of Mr. Ramirez's Commencement Speech:
Dr. Keck, thank you so much for the invitation to speak at these commencement exercises.  I share the joy and pride that the platform guests, the administration, the faculty and staff, the parents, and particularly the graduates have for reaching this milestone. 
I congratulate the graduates for their dedication, energy, and focus to work for a higher level of education.  I congratulate the parents for their support during the long road to this important celebration. 
Your success is all possible because we live in a country that allows you to succeed. Our free enterprise system has proven to be the best in the world because people can grow and reach their dreams.  We must never forget that this is the greatest country in the world protected for us by our founding fathers and ancestors. We all have an obligation to fight for and defend the principles that have nurtured the freedom to succeed and yes, at times, to fail.   Without these principles, we would not be the greatest nation on the face of the earth.   I ask each of you to seek success and use that success to make our nation better.
Now, Graduates, I want to challenge you to give back to this community which supported you during your journey. 
The Mexican Poet, Enrique Rambal, in his poem "A MI HIJO" starts out—Querido Hijo, lentamente se aproxima el tiempo en que tengo que emprender el viaje que no tiene regreso; no puedo llevarte con migo y te dejo en un mundo donde los buenos consejos no salen sobrando.  Aqui el tiempo y la experiencia ensenan y limpian la consiencia.  Por eso, quiero decirte lo que yo vi y lo que yo aprendi.
Basically, he is saying "as I reach my last sunset, I want to share with you what I have learned.  He goes on to say "si algo tienes, da y da con gusto y no por ello te sientas grande; si nada tienes, ten a mano un vaso de aqua fresca y no por ello te sientas menos.  Simplemente haz el bien y no te preocupes de lo que de ello resulte. 
Again, he is saying be charitable and give in proportion to what you have.  If you give big, do not feel superior; if you have little to give, do not feel inferior.  Simply, do the right thing and do not worry about the outcome.  Some people focus on gratitude and loyalty of the recipient of generosity.  He is saying, "do the right thing" and do not worry about the outcome.
 Why do you need to give back to the community?  Simply, a rising tide lifts all boats.  When the people and the businesses around us are successful, we all benefit.  Give back and everybody benefits.  The biggest beneficiary is oneself.  The inner peace that comes from knowing we did the right thing is very satisfying.
I've never been one to just sit around.  I need to be busy, to be productive, to use my time effectively. Most importantly, helping those less fortunate than I have been is important to me.  And I've been fortunate enough to be in a position where I'm able to do that.  When I came to IBC on July 1, 1983, I realized that Chairman of the Board A. R. Sanchez Sr. and CEO Dennis Nixon have the same philosophy. IBC has always been committed to the public good and doing things for the community.  It's no accident, for example, that IBC provides a substantial portion of the United Way funding in Laredo and Zapata. This commonality of interest has resulted in a successful 28 year association between my family, and the Sanchez family and the Nixon family.
There's been a lot of talk lately about "hard times," especially along the U.S.-Mexico border.  Hard times are just opportunities.  In my particular case, I have had to make sure I stayed with the basic principles of banking—these basic behavior patterns have seen IBC-Zapata grow in spite of the hardest times in banking ever. 
IBC-Zapata was founded in 1984.  The bank has gone through peso devaluations which caused many businesses to fail, the collapse of the savings and loan industry, the recent mortgage crisis and collapse of the housing market, and a number of other disasters such as oil prices going down to $17 a barrel.
Sound banking principles have gotten us through "hard times" before and they will again.  In rural America we stuck with those principles and didn't get involved in "innovative" financing programs such as deferred interest payments, no down payment, complete disregard of payment history of borrower, inflated real estate appraisals, teaser rates at the outset on loans, etc.  These basic banking principles that IBC-Zapata adhered to, like many community banks in rural America, are the reasons for our position in the top 5-8 percent in profitability and the top 2 percent in capital ratio in the country. 
The success of IBC-Zapata has made it possible to be very generous.  We made a one-time $300,000 donation to the Zapata Boys and Girls Club and a significant yearly contribution, have consistently given to the United Way, contributed to the A. R. Sanchez Memorial Scholarship, given large amounts to the Tejano Monument, which will be constructed on the Capitol Grounds in Austin by September 2011, contributed to various universities, and other charities.
At a larger scale, the success of the $12 billion parent company of IBC-Zapata, International Bancshares Corporation's has come as a result of an aggressive and innovative attitude to "Do More" for our customers and our communities. That philosophy of investing time and resources isn't just about serving customers of the financial institution, either. We encourage our more than 3,000 employees and officers to serve on boards and to volunteer in civic groups and charitable organizations supporting the arts, education, neighborhood revitalization programs, economic development, medical research and other causes.
That "Do More" attitude is part of our commitment to the growth and success of our customers and our communities. It means we go above and beyond to respond to our customers' needs. In 2009, the Employee Advisory Boards, corporate wide, spent more than 23,000 hours volunteering with various charities.
We were awarded the Cornerstone Award from the Texas Bankers Foundation for It's a Brighter Christmas, a holiday-focused giving initiative and again for Operation Care Drop, a donation drive benefiting our troops.
This year IBC Bank was awarded the LIFE Award from the Texas Banker's Foundation for its Money Buzz program, a financial literacy program that teaches students the importance of saving. 
We have also been honored by Governor Rick Perry with the Governor's Volunteer Award.  And the National Banker's Association has given us the High Performance Bank Award many times in recognition of leadership qualities and excellence in overall performance and service.
We've also received the George Washington Honor Medal from the Freedom Foundation at Valley Forge and been recognized time and time again by United Way with the Corporate Excellence Award for our strong community support.
It is easy to be generous when you have been blessed with economic success.  But, what can you do?  You are starting in a new career, possibly with large debts you incurred for your education.  I want to give you some options.
I serve on the board of directors of the Texas Civil Rights Project, a non-profit organization that focuses on defending civil rights across Texas.  The agency, through its office in Pharr, has focused on migrant workers in the valley who were victimized by unscrupulous contractors who would contract their work and not pay them. 
Another focus has been women being victimized by human traffickers.  The office in El Paso focuses on Violence against Women Act (VAWA) to protect women being forced into drug dealing and prostitution. 
The agency is staffed by moderately-paid attorneys and volunteer law students and beginning attorneys from all over the country.  We have graduates from schools from all over the country who feel they must give back by spending an internship at subsistence wages to help those who cannot help themselves.  I have great admiration for these young men and women who sacrifice income for a couple of years or more to help those who cannot afford legal services.
Your economic resources may preclude giving in monetary terms.  You have something much more valuable.  I am going to challenge you to get involved with local charities with your intellect, your education, and your time. 
There are many agencies in Laredo that need your help.  I will name a few—The Bethany House feeds the hungry and houses the homeless.  The Sacred Heart Children's Home houses children much less fortunate than you.   The Children's Advocacy Center protects abused children.  The Food Pantry provides meals to those who are suffering hard times.  The Animal Shelter provides for abandoned pets.  The Boys/Girls Club provides a positive place to be for children.  There are many other organizations that need volunteer help.
By example, you can influence those coming behind you.  Some thirty-five years ago, I saw it when I was a professor at Laredo State University, which was the predecessor of this university.  It was rewarding to be able to impact the lives of my students and see them be successful in their individual endeavors.  By sharing my knowledge with them, I was able to help them achieve their goals.  They went into the community and made a difference in the lives of others.  That benefitted everyone, including me.
What I am saying is simple—the behavior pattern of successful people and successful organizations can be described as a pattern of giving back.  I am asking you to make a commitment to give back to this great community and make it even greater and take that commitment seriously.
Thank you for the opportunity to speak to you.  May God bless you and may you achieve the success that accrues to those who give back.
Renato Ramirez
Chairman of the Board/CEO
International Bank of Commerce – Zapata, Texas