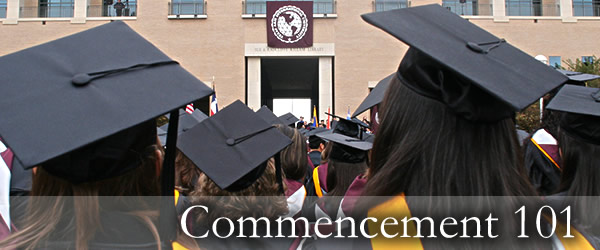 Fall 2012 Commencement Speech
Speaker for Ceremony I - A. R. Sanchez Jr. School of Business
Mr. Cliffe Killam
Partner, Corporate Planning and Business Development
Killam Oil Company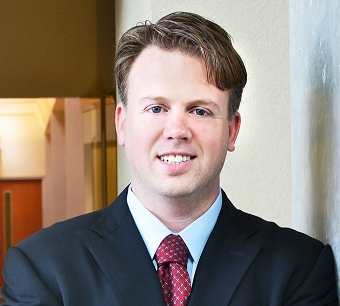 Following is the text of Mr. Killam's Commencement Speech:
Thank you, Dr. Ray Keck, Provost Pablo Arenaz, Dr. Jon Mogford, U.S. Congressman Henry Cuellar, Texas State Senator Judith Zaffirini, and platform guests.
I would like to begin by extending a heartfelt "Congratulations" to the Texas A&M International University's 2012 Fall Business School Graduates!  Today, we recognize and honor you for your hard work, intelligence, dedication, preparation and for the many all nighters that you endured to get over the finish-line to earn your Bachelor's, Master's, and PHD's from the A.R. Sanchez, Jr. School of Business!  What an amazing accomplishment!
I stand before you today excited and humbled to be your Commencement Speaker.  It is a great privilege to give a commencement speech, and I take this honor very seriously.  You may be wondering who I am and why I have been chosen to address you on this momentous occasion.  After all, I am only a decade older than most of you graduating, which makes me closer in age to you than your proud parents.  I can assure you that I have done nothing to deserve this honor, especially considering that I am a graduate of the University of Texas.  But, before you tune me out, you should know that I also took some business courses at TAMIU so at least I did one thing right! 
Rather than pontificate too much, I'd like to share with you a few hard earned lessons that changed me.  I will preface these lessons with the words of T.S. Eliot who once said, "We shall not cease from exploration, and the end of all of our exploring will be to arrive where we started and to know the place for the first time."  As I reflected over the past decade, I realized that these words represent my journey after college.   
"Taking Ownership" emerges as the core principle and guiding light that helped me gain success and happiness.  This insight crystallized as I thought about how lost I felt at 22, and now at 32, I feel such a great sense of purpose, passion, and drive.
I believe the concept that you "Take Ownership" of your life can be achieved by exploring 3 key ideas, which at times overlap, 1) Know yourself better by taking risks 2) Once you find your passion and purpose, seek mastery 3) Give back to the world.
1: KNOW YOURSELF BETTER BY TAKING RISKS.  In my early twenties, I thought I knew myself but missteps and failures necessitated that I truly learn.  Part of that discovery was about taking risks and making unconventional choices.
I graduated from college with a degree in English Literature and a minor in Religion.  I was confused and immensely unemployable.
Armed with your business degree, you are leaps and bounds beyond where I started off.
I'll never forget a few days before I graduated from Boston University my college advisor requested my presence.  When we sat down, I expected a warm, fuzzy pep talk.  Instead, we had a short meeting in which he told me, "Cliffe, I just want you to know before you graduate that most people hate their jobs."
You can probably imagine my shock and more clearly imagine I was not a good student.  That harsh medicine sent me into a tailspin for a long time, but today I would like to thank him for waking me up!  At the time, however, I just wanted to put my life on hold, needed time to figure things out, and the last thing I wanted to do was read a book. 
At my graduation at Boston University, my name was not on the list on the program brochure.  My family thought that I must never have read a book and questioned whether I was actually graduating.  I assured them I was.  When they called my name at graduation, the Dean of the College of Arts and Sciences handed me a folder, shook my hand, and as they took my picture with him he whispered, "Don't open it, there's nothing in there.  Speak to me after."  It turns out that I never filled out the administrative paperwork and later received my diploma in the mail. 
So ended my unscholarly life and then began my humble entrance into the business world, which began with a pipe wrench.  After graduating, I took a job with my family's company doing manual labor in the oil and gas fields in and around Freer, Texas. 
I did whatever was needed.  I swept the yard, cleaned toilets, helped build pipelines, measured oil volumes in tank batteries, changed brake pads on trucks, gauged gas wells, and was a roughneck on a work-over rig.  This one year of doing manual labor led me from being a recent college graduate that was lost, irresponsible, and immature to gaining clarity for the direction I wanted to go.  The perceived risk for me was not about getting my hands dirty rather about addressing my own shortcomings and failures.  The physical demands of my job helped focus my mind and gain appreciation for the oil business. 
2: Once you find your passion and purpose, seek mastery.
As I began to realize I liked the oil business, I decided I needed to prepare myself to become a professional.  I signed up for an accounting class at TAMIU, which I would attend after work.  Although I was not afraid of hard physical labor, I soon discovered the challenge of accounting.  Thank goodness, I was auditing the course, or I probably would have failed.
After about nine months of working in Freer, I realized I truly loved the oil business, which was not something I was expecting.  I then decided to pursue my own career apart from my family business and apply for graduate school to gain knowledge and practical analytical skills valuable to a company.  I graduated from U.T. Austin, where I received a Master's in Energy & Mineral Resources. 
In the spring, I started looking for a job and interviewed like mad.  I would prepare, snag an interview, and receive rejection after rejection.  I remember my Mother telling me, "Somewhere someone has overcome greater challenges to achieve greater things; so work harder, be more focused, and never give up."
My big break came when I interviewed with Wood Mackenzie, an energy research company that advertised a job opportunity at our campus.  After my resume had been selected, I had to go through a grueling 12 hour interview process in Houston.  Three weeks later I received a phone call telling me that I didn't get the job.  I continued to interview and received a job offer that I really didn't want.  I called up Sharon, the human resource manager at Wood Mackenzie.  I told her I had a job offer, but I really wanted to work for her company. 
Sharon called me back a few days later and asked if I could be in Houston for an interview the next day.  I drove over and interviewed with two Managing Directors.  Sharon called shortly after the interview while I was having lunch informing me I didn't get the job.  I drove back to Austin, and when I arrived received another call from Sharon this time asking, "Are you still in Houston?"  Apparently, there was another position pending a final decision.  I immediately drove back to Houston that same day, arriving in the late afternoon for the interview. 
As a result of my persistence, I earned a job offer.  That job changed my life by setting me on a whole new course that led to many great opportunities there and opened the door for my subsequent job, where I worked on energy transactions. 
Discovering my passion helped me select the right graduate program and job to acquire the right skills and experience to be successful in the energy business.    
3: Give back to the world.
The final aspect of "Taking Ownership" resides in giving back and helping other people.  A helpful phrase I often tell myself: "It is not about you". 
As we become more secure of who we are and our choices, we can focus on helping others.  We can choose to act selflessly rather than selfishly.
I will admit to you today that this is a new phase in my life.  I volunteered occasionally as a young man, but today I recognize the difference we can make.  We can take simple steps to fight for causes that need a voice.  Your education has endowed you with a special privilege and role to help others.  We can serve through a monetary donation —no matter how large or small, give our time, and invest our brain power to improve a particular cause.
As a company, we have volunteered with the local food shelter, battered women's shelter, and habitat for humanity.  The needs in our community are great, and each and every one of you can make a real difference.  You can change a life, a family, a community, and ultimately you can change the world.  Small begets big.
I stand before you today as a strong advocate that you take ownership of your life.  You can empower yourself through taking risks.  The mistakes you make will become lessons that aid you in the discovery of your true calling and finding a job that you love.  Once you discover what you are passionate about in your life, strive to do your best and be the best at it.  Lastly, give back to the world because it needs you.
I've since come home to work in Laredo with my family's company again.  And I remember very clearly having worked on things from gauging gas wells, building pipelines to cleaning toilets.  Remember that every job is important, and nothing is too small.  Take pride in your work, whatever it is, and take ownership of the decisions you make in life.   
In closing, I would like to wish the Fall Graduating class of 2012 friendship and love in your life.  When things are tough in this sink or swim world, family and friends add buoyancy keeping us above water.  And when life is wonderful, family and friends make it even better.  Once again, congratulations to the Fall Graduating Class of 2012!  God bless you and your families!