Dr. Jaime Ortiz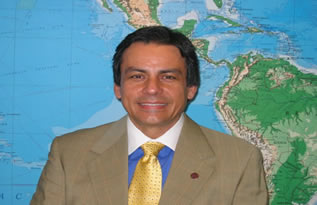 Dr. Jaime Ortiz obtained his B.Sc. and a Post-graduate Diploma from the Universidad de Chile in Chile, his M.A. from the Institute of Social Studies in The Netherlands, and his Ph.D. from Virginia Tech in the United States. He is the Associate Vice President for International Programs and Associate Professor of Economics in the Division of International Banking and Finance Studies at the College of Business Administration.
Dr. Ortiz has taught and consulted in economic and business matters in nineteen countries, with a particular focus on Latin America and the Caribbean. He has advised, among others, Euroconsult B.V., United Nations Development Program, Gessellschaft für Technische Zusammenarbeit GmbH, Inter American Development Bank, Junta del Acuerdo de Cartagena, Organization of American States, Pre-investment Organization of Latin America and the Caribbean, Technical Cooperation of the Suisse Government, The World Bank, as well as non-governmental organizations and private corporations.
Dr. Ortiz is the author, co-author, or editor of two books, three book chapters, fourteen textbooks, sixty-nine research monographs and technical reports, and twenty two refereed journal articles including the International Journal of Business and Economics, ABANTE, Journal of Global Business, South European Review of Business Finance, Journal of Microfinance, Revista Portuguesa de Gestão, Journal of International Development, Estudios de Economía, Cuadernos de Economía, and Economic Development and Cultural Change. He is listed in Who's Who in the World, Who's Who in America, Who's Who in Finance and Business, Who's Who in Business Higher Education, Who's Who in American Education, and Who's Who Directory of Economists.
Dr. Ortiz has been a Fulbright-Hays Scholar and MSI Leadership Fellow with the W.K. Kellogg Foundation. His work and research focus on topics related to economic growth and development, global investment decisions, and identification of sources and origins of technical change.