2022 Annual Security and Fire Safety Report
ANNUAL SECURITY REPORT AND DISCLOSURE OF CRIME STATISTICS
Campus Safety and Planning is responsible for preparing and distributing the Annual Security and Fire Safety Report (ASFSR) to comply with the Jeanne Clery Disclosure of Campus Security Policy and Crime Statistics Act (the Clery Act). The Fire Report section is generated by the Office of Housing & Residence Life. The ASFSR is published every year on or before October 1, as approved by the US Department of Education) and contains three years of selected campus crime statistics and fire statistics, along with certain campus security policy statements in accordance with the Clery Act.
The TAMIU ASFSR is produced with input from various sources such as local law enforcement agencies, Housing and Residence Life, the Division of Student Success, and other campus officials/departments.
Annual Security & Fire Safety Report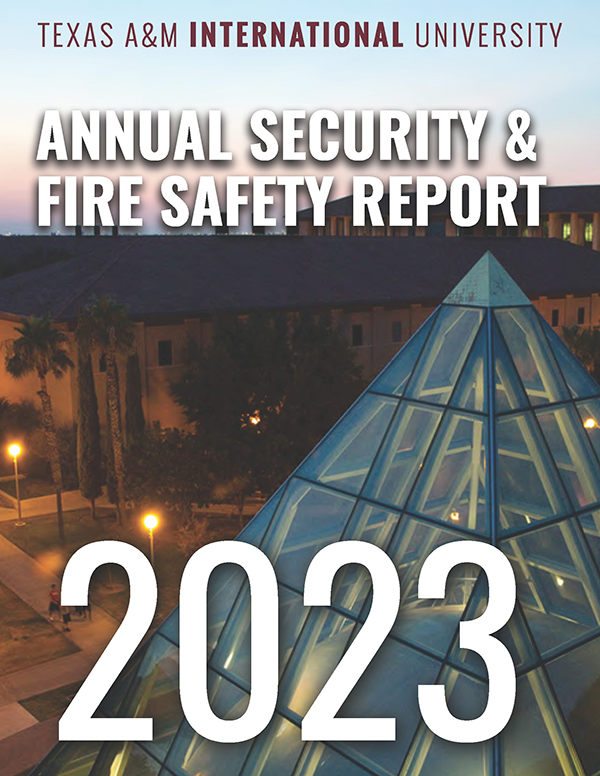 View the flipbook version of the 2022 Annual Security and Safety Report
You may also download a PDF version
Published and distributed on October 01, 2022
Additional Clery Information
Campus Security Authorities PowerPoint
Crime Reporting - New Submission
Additional questions regarding TAMIU's compliance efforts with the Clery Act may be directed to the Campus Security Survey Administrator and Clery Compliance Officer.
Trevor C. Liddle
Senior Director, Campus Safety and Planning
Texas A&M International University
University Police Department Building Room 160
956-326-3310