Show Schedule
August 2014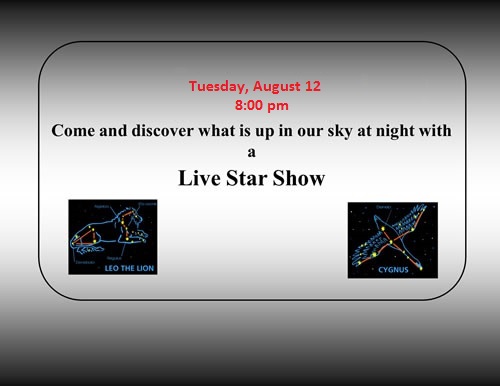 We will have one Live Star Presentaion on Tuesday, August 12 at 8:00 PM. General Admission $3.00 Also
On the same night (Tues. Aug. 12) we will be taking out our telescope to observe Perseid Meteor Shower from 10:00PM-12:00PM (free admission) We will be located across the Residential Learning Center (RLC) in the field between the Baseball field and parking lot. We recommend that you bring a lawn chair or blanket to sit on. For more information please call Mr. Peter Davis at 956-326-3128
It is that time of year again when the Planetarium will be closed starting on Friday, August 1st so we can get ready for the brand new school year.
Please check back with us in September for our reopening.
Thank you once again for supporting the Lamar Bruni Vergara Planetarium!
General Admission is $4 children and $5 adults.
**Music shows $1 more.
Schedule subject to change or be cancelled without notice.
Please confirm schedule before your visit.
For show schedules, coming attractions and general information call (956) 326-DOME (3663)