Posted: 9/29/11
Art Reception Tonight at TAMIU

A closing reception for the Marc-Anthony Polizzi Solo Exhibition at the Texas A&M International University Center for the Fine and Performing Arts Gallery will be held Thursday, Sept. 29 from 6 – 7:30 p.m. Admission is free and open to the public. The exhibit closes Friday, Sept. 30.
About his work, Marc-Anthony Polizzi writes in his artist's statement, "My work uses a process of reconstruction and unification to examine the domesticated chaos of the post-consumer world. This area where the relatively ordered and relatively disordered coexist and interact might seem like a contradiction, considering the more austere and violent sense of chaos. However, it is in this gray area in which I construct my work. These installations draw on the history and narrative properties of found objects, to bring out the human connection often lost in the glimmer and glitz of an ever growing material culture."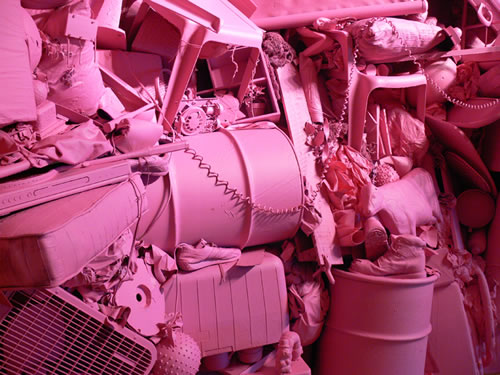 Polizzi's work has been shown in cities across the U.S., including Chicago, New York City, New Orleans and Kansas City, Mo., where he currently resides.
He attributes his work partly to the time he spent as a traveling carny, factory brazier, video store clerk, set designer and other diverse jobs. Polizzi says his work has also been influenced by the time he spent in post-Katrina New Orleans and growing up in Utica, NY, in the Rust Belt.
He attended PRATT at Munson William Proctor Institute of Art, the New York State College of Ceramics at Alfred University and received his master's in fine art from Tulane University in New Orleans.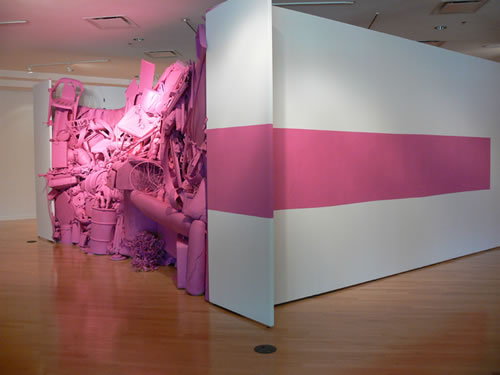 The Gallery is open Monday – Thursday, 9 a.m. – 5 p.m. and by appointment.
For more information, contact David Bogus, Gallery co-director and assistant professor of art, at david.bogus@tamiu.edu or 326. 3079 or visit offices in CFPA 208A.
Additional photos of the current exhibit are available here.
---
Journalists who need additional information or help with media requests and interviews should contact the Office of Public Relations, Marketing and Information Services at prmis@tamiu.edu