Posted: 5/05/15
Kissing Event Proves 'Pig' Success for TAMIU Sanchez School Students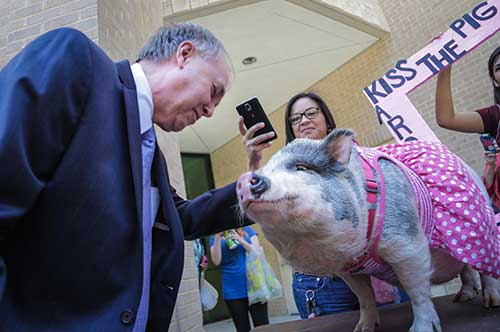 A student-generated fundraiser that saw Texas A&M International University's A. R. Sanchez, Jr. School of Business Dean Dr. Steve Sears kiss a pig has exceeded expectations.
Kazandra Aleman, president of the Sanchez Business School Student Advisory Council, said the event was a "Pig" success, pun intended.  No Dean was harmed and the pig, named Aly, was a charmer.
"Our final tally of the funds raised at 'Kiss the Pig' was $1,736.86. These funds will be used for events in the upcoming academic year such as company visits, both local and out of town;  an annual Fall mixer for business students to learn about the Sanchez School of Business and engage with classmates and faculty; a lunch with the professor event for students to talk and meet with professors outside of the classroom/office and our annual pizza with the Dean gathering ,which provides students an informal setting to meet and chat with Dean Sears.  The Council is also planning many more similar and new events," Aleman explained.
The Dean's Student Advisory Council represents the majors and minors offered by the Sanchez School. 
Last Thursday, Dr. Sears hosted a pizza lunch with students prior to the "Kiss the Pig" event and said he admired the student's creativity and drive.
He noted Aly, owned by Dora Gomez and her daughter Yahaira , was even dressed for her date, wearing a pink dress.
"We strive to provide our students with the best education possible, and offering value-added, relevant field experiences and paid internships help us to elevate our program and our students.  I realize that this may seem a different way to bring that point home, but I think it helps to underscore both my and the School's commitment to our students, " Dr. Sears said.
The A. R. Sanchez, Jr. School of Business is accredited by The Association to Advance Collegiate Schools of Business (AACSB International). A gifted, global faculty, 40 holding a Ph.D. and 18 as adjunct faculty, imparts an international, quality business education.
To learn more about the Sanchez School of Business and its undergraduate, graduate and doctoral programs, visit www.tamiu.edu/arssb.
For University information, please contact the TAMIU Office of Public Relations, Marketing and Information Services at 326.2180, e-mail prmis@tamiu.edu or visit offices in the Sue and Radcliffe Killam Library, room 268.
University office hours are 8 a.m. – 5 p.m. Monday-Friday.