Posted: 9/03/15
TAMIU's Dr. Cardona-López Receives Peruvian Award for Lifelong Contribution to Literature

 

            In Santiago de Chuco, a tiny, picturesque city atop Perú's Andes Mountains, residents still celebrate the literary legacy of native son and world-renowned poet, César Vallejo.

            Recently, Texas A&M International University professor of Spanish and author Dr. José Cardona-López traveled to Santiago de Chuco, Perú's Poetry Capital, to participate in an international, multi-city literary conference and experience one of the highlights of his life.

           Dr. Cardona-López, author of internationally renowned novel, "Sueños para una siesta" (Dreams for a Nap) and several short story books, received the prestigious "Laurel Trilce de Oro" (Golden Laurel Trilce) Award from the Peruvian city's mayor, Dr. Víctor Luján Chero, during the 16th "Capullí, Vallejo y su tierra" (Capullí, Vallejo and his Land) Conference, held May 19-24.

            The Conference was organized by Dr. Danilo Sánchez Lihón, conference president; Dr. Mara L. García, conference international affairs; and the event work team. The award recognized Cardona-López's lifelong contribution to culture and his literary work consistent with the valuation of life and work of Vallejo.
            Cardona-López, a native of Colombia, said he was honored to receive the recognition at the birthplace of Vallejo, a poet considered one of the world's and Latin America's greatest.

           "It was exciting to feel, precisely in the hometown of César Vallejo - a poet so necessary in world poetry of all times - that I was receiving this distinction of international order," he said, "In the Hispanic culture, Vallejo and his poems have always been present in our lives. His verses are a part of our sentimental education."

            Cardona-López thanked his wife, Myriam, and children, Beatriz Leonora and Andrés Felipe, for their unconditional support throughout his career development. He said this is an award for them as well.

            Vallejo is considered the most influential poet of the 20th century of all languages, Cardona-López explained. Author Thomas Merton regarded him as universally the most important poet after Dante, he added.

            During his weeklong visit to Perú, Cardona-López said he participated in a reading session of creative work and read an academic paper on Vallejo's poetry. As part of the literary conference, he also visited universities and presented reading sessions and talks in Lima, Trujillo and Huamachuco.

            In Santiago de Chuco, a small Andean town 3,120 meters above seal level, every hour breathes poetry, said Cardona-López.

            "It was as if Santiago de Chuco and the world were sharing around the verses of Vallejo and his values as a human being under a huge, Andean, Sunday sun," Cardona-López said, describing the day of the award ceremony conducted in Santiago de Chuco's main gathering park.

            Conference participants representing Perú, England, México, Spain, Hungary, Venezuela, Chile, Andorra, France, Colombia, Sweden, Venezuela, Scotland, Uruguay and Bolivia visited the house where Vallejo was born and lived. Poems he published adorned city murals and several streets are named after Vallejo's verses and poems, he said.

            "People, especially children, recite Vallejo's poems," he said.

            Drawing inspiration from his recent travel, Cardona-López said he is currently working on projects surrounding the nouvelle or short novel, his main field of research. On the creative side, he is compiling a new collection of short stories.   

            Now that he visited Vallejo's birthplace, he said he has an increased appreciation for and knowledge of the poet's life and work, which he hopes to share with his TAMIU students in the two poetry classes he teaches this semester.

            "Our professional lives (as professors) are mostly conducted in the classrooms with students," he said, "In saying this, I must also add that the award I received is dedicated to my students and of course, to TAMIU."

            Cardona-López continued, "As a faculty member and a writer at this University, I have always found support for my academic, research and creative work."

            Originally from Palmira, Colombia, Cardona-López earned his Ph.D. in Spanish from the University of Kentucky and an M.A. in Spanish from the University of Louisville in Louisville, KY. His B.S. in agricultural engineering was earned at the National University in Palmira.

          His short story books include  "Al otro lado del acaso" (The Other Side of Perhaps), "La puerta del espejo" (the Door of the Mirror),  "Todo es adrede" (Everything is Deliberate), and "Siete y tres nueve" (Seven and Three Nine).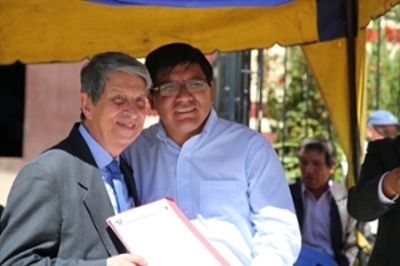 Dr. José Cardona-López, Texas A&M International University (TAMIU) professor of Spanish, left, is pictured with Dr. Víctor Luján Chero, mayor of Santiago de Chuco, Perú during his award ceremony. Chero recently recognized Dr. Cardona-López with the prestigious Golden Laurel Trilce Award for the scholar and author's lifelong contribution to culture and his literary work.       
            Three of his short stories and a nouvelle have been adapted to short and medium length independent films that have premiered in film festivals in France, Colombia and the United States. They include "Pilar" (Pilar/Spanish), "El teorema de Jenny" (Jenny's Theorem/French), "La pañoleta" (The Headscarf/Spanish), and "L'appartement" (The Apartment/French). He was also the co-author of the script for the feature movie, "Tout le monde danse" (Everybody Dances/ French), directed by the independent filmmaker Luís Gerardo Otero.
            As a scholar, he has published "Teoría y práctica de la nouvelle" (Theory and practice of the nouvelle), in which he presents and discusses extensively the theory of the nouvelle, written from the times of the German Romanticism to the 20th Century in Europe and America.
            Prior to becoming a faculty member at TAMIU, Cardona-López was an instructor of Spanish at Hanover College in Hanover, IN.
            Before Indiana, he held several positions as teaching assistant at the University of Kentucky and the University of Louisville, and from 1983-87 was an arts instructor at the former House of Arts "El Papagayo de Cristal" in Bogotá, Colombia.
            For more information, please contact the Office of Public Relations, Marketing and Information Services at 326.2184.
            University office hours are 8 .am. – 5 p.m. Monday-Friday.