Posted: 10/08/15
New Civil War History Book Penned by TAMIU Regents Professor Thompson

Some 10 years in creation, a new book from Texas A&M International University (TAMIU) Regents Professor of History Dr. Jerry Thompson opens a new chapter on Civil War history. 
Dr. Thompson's A Civil War History of the New Mexico Volunteers and Militia (University of New Mexico Press, 2015), is exhaustively researched, its 939 pages a hefty confirmation of his commitment to revealing little-known elements of the Civil War in New Mexico Territory.
"The Civil War in New Mexico began in 1861 with the Confederate invasion and occupation of the Mesilla Valley. At the same time, small villages and towns in New Mexico Territory faced raids from Navajos and Apaches. In response, the commander of the Department of New Mexico, Colonel Edward Canby and Governor Henry Connelly recruited what became the First and Second New Mexico Volunteer Infantry. My book seeks to tell their story for the first time, along with the history of a third regiment of Mounted Infantry and several companies in a fourth regiment," Dr. Thompson explained.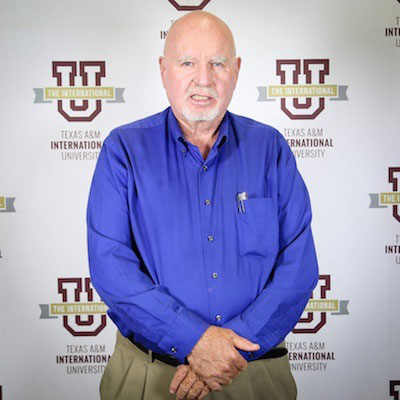 Thompson's focus is on the Confederate invasion of 1861–1862 and its effects, especially the bloody Battle of Valverde, he said.
"My emphasis is on how the volunteer companies were raised; who led them; how they were organized, armed, and equipped; what they endured off the battlefield; how they adapted to military life; and their interactions with New Mexico citizens and various hostile Indian groups, including raids by deserters and outlaws," Thompson noted.
His 10-year odyssey to publication required a level of investigation rarely considered by most scholars today.
"I looked at service records and numerous other archival sources that few earlier scholars have seen. It was exhausting work, and took about 10 years, but I believe my thoroughness will provide a goldmine for historians today and tomorrow.  The appendix alone lists the names of all volunteers and militia men," he observed.
For more about the book, visit the UNM Press at http://bit.ly/1j94e60
Thompson, one of the country's leading Civil War historians, especially its Southwest Campaign, is the author or editor of more than 24 books, including Texas and New Mexico on the Eve of the Civil War: The Mansfield and Johnston Inspections, 1859–1861 (UNM Press).
Among other publications are Civil War in the Southwest, A Wild and Vivid Land: An Illustrated History of the South Texas Border, Fifty Miles and a Fight: Samuel Peter Heintzelman's Journal or Texas and the Cortina War, and Into the Far, Wild Country: True Tales of the Old Southwest. He has also authored an award-winning biography of Juan Nepomuceno Cortina and with Larry Jones a history of the Civil War on the Rio Grande.
He has been part of TAMIU's faculty since 1987, and holds his doctorate in history from Carnegie Mellon University in Pittsburgh, PA. His M.A. in history was received from the University of New Mexico, Albuquerque, while his B.A. in history was earned at Western New Mexico State University in Silver City, NM.
For more, contact the TAMIU Office of Public Relations, Marketing and Information Services at 956.26.2180, email prmis@tamiu.edu or click on tamiu.edu
University information is also available on its social media sites on Facebook, Instagram, Twitter and YouTube.