Posted: 10/29/15
Visionary Author, Thinker Rubin Lectures at TAMIU Tonight

Edward L. Rubin, one of the nation's most visionary authors and thinkers on law, legal theory and the new morality will present a special lecture and book signing at Texas A&M International University (TAMIU) on Thursday, Nov. 5 at 7 p.m. at Senator Judith Zaffirini Student Success Center, Room 101.
This event is free of charge, open to the public and co-sponsored by TAMIU and the Webb County Bar Association. During his campus visit, Rubin will also meet with TAMIU students and lecture on various subjects.
Rubin is University Professor of Law and Political Science at Vanderbilt University. His current book and subject of his TAMIU lecture is "Soul, Self & Society: The New Morality and The Modern State" (Oxford University Press).
While political and social commentators regularly bemoan the decline of morality in the modern world, Rubin's powerful account of moral transformations demonstrates that these prophets are missing the point.  Instead, he writes in "Soul, Self & Society," a new morality, centered on an ethos of self-fulfillment, is arising.
Rubin previously taught at the University of California, Berkeley, Law School and the University of Pennsylvania Law School, and served as Dean at Vanderbilt Law School. He is the author of three other books (two with Malcom Feeley), editor of three volumes of essays and co-author of two legal casebooks and more than 100 articles on law and political theory.
He has also been an avid science fiction fan since fifth grade and teaches a Vanderbilt course entitled "Visions of the Future in Science Fiction." In addition, he has helped organize a science fiction reading group at the Law School.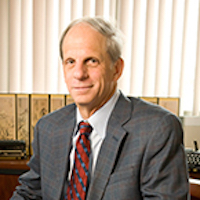 Rubin has spoken about administrative law and legal theory at numerous academic conferences and workshops and has served as a consultant on administrative law to the People's Republic of China.
Born in Brooklyn, N.Y., he went to Midwood High School and received his undergraduate degree from Princeton University. He worked for the New York City Board of Education, designing programs to connect disadvantaged public school children with cultural and scientific resources. He graduated from Yale Law School and practiced entertainment law at Paul, Weiss, Rifkind, Wharton and Garrison before beginning his academic career.
Rubin's scholarship focuses on modern administrative government. Its dominant theme is that our regulatory system represents a new approach to government. The American people, and the people of every other Western democracy, have chosen this form of government, and continue to support it, because it is essential for an orderly and prosperous life in this modern industrial and technological world.
For additional information, contact the TAMIU Office of Public Relations, Marketing and Information Services at 956.326.2180, email prmis@tamiu.edu, click on tamiu.edu or visit offices in the Sue and Radcliffe Killam Library, Suite 268.
University information is also available on its social media sites on Facebook, Instagram, Twitter and Your Tube.
For more on Rubin, visit http://www.edwardrubin.com