Posted: 11/13/15
TAMIU Choreography Students Meet, Learn from NYC Dance Company

Texas A&M International University (TAMIU) Dance students flexed their critical thinking skills at a recent dance performance in San Antonio when they saw production of "Carmen.maquia," a contemporary retelling of the novella and historic opera, "Carmen."
The experience further augmented the College of Arts and Sciences, Department of Fine and Performing Arts dance minors' studies by providing a look behind the scenes and an opportunity to meet the dancers and ask questions.
The production was performed by Ballet Hispanico, a dance company from New York City.
"Dance minor students enroll in a concert choreography course where they learn the elements of composition through discussions and structured improvisations used to generate new movement ideas and test their understanding of the concepts. This process of learning, experiencing and creating helps them to be able to examine an artistic work from a knowledge-based perspective," explained Traci Klein, TAMIU assistant professor of dance.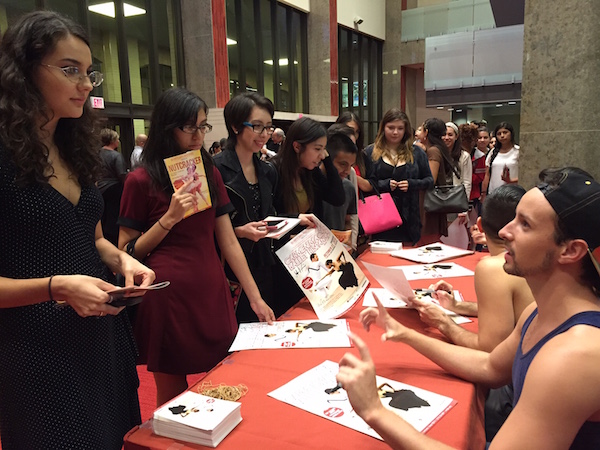 "When they go to see professional dance companies such as Ballet Hispanico, they can not only decide whether or not they liked the performance, but they can also verbalize why," Klein said.
During intermission, students were able to use their knowledge to discuss the set, costumes, technical proficiency of the dancers, and the seamless partner work between the two main characters.
"When the show concluded, students asked the performers questions at a meet and greet and this gave them a better understanding of the choreographer's intention," said Klein.
Patricia Hernández, senior, history major, said she was inspired by the production.
"The show was full of talented dancers. I found the movement of their company's choreography unique and had a very distinct quality which was enjoyable and inspiring. I had a few bones to pick with the way the story developed, but that is because I have learned enough to find some criticism with a performance," said Hernández.
Alyssa M. Robles, junior, communications major, said she had no idea what to expect, but felt transported to another place when they arrived at the event.
"I've never been to a professional dance company performance, so I was very excited when I heard we were attending the Ballet Hispanico performance. I had no idea what to wear and I had no idea what to expect. Once we got to the auditorium, the atmosphere was indescribable. It felt like I had left the earth and entered a dancer's world," Robles said.
"Overall, it was an experience I'll never forget thanks to professor Klein and TAMIU," Robles said.
She also expressed gratitude for the opportunity to attend the event because it was truly inspiring.
"I was inspired by the dancers' technique, facial expressions, their movement, the music, lighting, costumes—honestly, at any moment a dancer can feel inspired by anything," Robles said.
"There is an energy that you get from watching a live event that you just can't get from watching videos, which we also do in class," said Klein. "I love that they were able to enjoy the performance while watching it under a critical lens."
"Observations are sharper and you are more likely to catch smaller details when you witness the event with your own eyes, rather than watching on a screen or reading about it. For myself and other dance minors, I think that is a huge reason for having access to these kinds of events," said Hernández.
"It also gives us experience as to what we want our audience to understand when we create our solo choreography," said Robles.
One of the requirements for students enrolled in concert choreography is to create a 3 – 5 minute solo which three of them have been selected to present at the upcoming TAMIU Fall Dance Concert Friday, Nov. 20 and Saturday, Nov. 21 at 8 p.m. in the Center for the Fine and Performing Arts Theater. Admission is $5 and free to children 10 years old or younger and TAMIU students with a valid ID.
Klein said she plans to take eight dance students to perform a piece she choreographed for the American College Dance Association conference being held at West Texas A&M University in March.
The trip to San Antonio was sponsored by the TAMIU College of Arts and Sciences.
For more information, contact Klein at 326.2625 or traci.klein@tamiu.edu or visit offices in the Center for the Fine and Performing Arts 115.
University office hours are 8 a.m. – 5 p.m., Monday – Friday.
Additional information is also available at www.tamiu.edu and on Facebook, Twitter, Instagram and YouTube.