Posted: 11/11/15
TAMIU Says 'It's On Us'

     Texas A&M International University (TAMIU) is part of a national campaign, "It's on Us, Week of Action," targeting the end of sexual assault on college campuses. 
     Throughout this week, the University is hosting a series of events and activities focused on raising awareness, fostering prevention through education and open, supportive, non-judgmental discussion about sexual assault.
     More than 300 campuses nationwide are participating in the "It's on Us" Campaign.
     Sandra Villanueva, the University's Title IX coordinator who has led the Campaign's development and launch at TAMIU, said participation in the Campaign helps underscore the University's commitment to its message.
     "As a University we are accountable.  We have a responsibility to provide a safe and nurturing environment for our students and community. By participating in this national campaign and wholeheartedly endorsing its message and intent, we affirm our commitment to eradicating sexual assault from our campus and all campuses," Villanueva explained.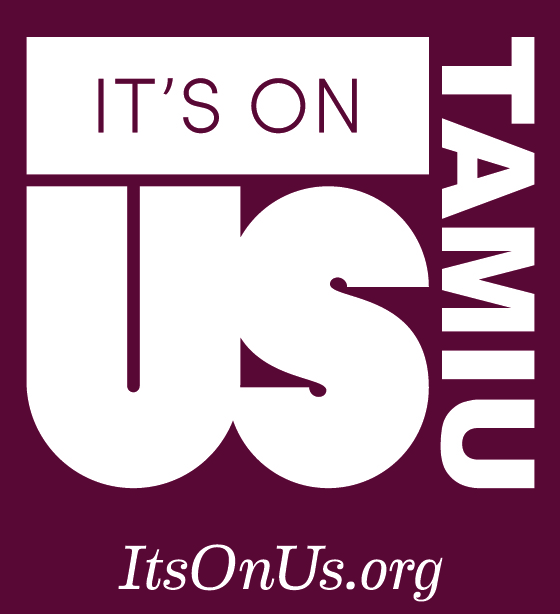 TAMIU president Dr. Ray Keck concurred.
     "Our participation sends a clear signal:  we will not tolerate sexual assault on this campus.  Parents and students should expect no less.  This week provides a focus, but we want this week to be carried on through the school year and forward to become part of our campus culture and experience.  It truly is on us," Dr. Keck said.
     The week began with a social media campaign with a public service announcement featuring TAMIU student-athletes advocating for the "It's on Us" campaign on campus.
     Tuesday night, from 8:30-9:45, a presentation, "Not on Our Campus: Sexual Assault Awareness and Prevention," will be held for student leaders and student athletes.
     On Wednesday, Green Dot training will be offered for TAMIU employees from 2-5 p.m. Green Dot training is a bystander intervention program to reduce power-based violence in the community and offers a comprehensive approach to violence prevention.
     On Thursday, the campus community will take the "It's on Us" pledge, "Not on Our Campus," from 11 a.m. – 3 p.m. in the Dr. F. M. Canseco Hall and Pellegrino Hall Breezeway.  Nationwide, over 250,000 students have taken the pledge.
     Later, from 6-10 p.m., "It's on Us" Night will be held at the Residential Learning Community and University Village, TAMIU's on-campus student housing.
     Friday, employees can participate in Safe Zone Training from 1-3 p.m. Safe Zone workshops are opportunities for educators, staff, community members and students to become more aware of issues facing the LGBTQ community.
     For additional information, contact Villanueva at 956.326.2857, email sandra@tamiu.edu, or visit the Office of Compliance in the Sue and Radcliffe Killam Library, Suite 159.
    To see the University's "It's on Us" PSA featuring TAMIU student-athletes, click on: https://www.youtube.com/watch?v=eogLrKRv-WQ
    For more about the national "It's On Us" Campaign, visit http://itsonus.org