Posted: 11/19/15
LULAC Chapter 7 'Adopts' TAMIU LEC at Macdonell Elementary

            Students at Macdonell Elementary School's Literacy Enrichment Center (LEC) will benefit from a recent adoption donation by LULAC Chapter 7 supporting supplies and instructional resources for the program.
           This is part of the Macdonell Elementary School Literacy Partnership and the LEC, an initiative of Texas A&M International University's  (TAMIU) College of Education. The Literacy Partnership is also supported by a generous grant from the Lamar Bruni Vergara Charitable Trust.
           Present for the donation were LULAC Chapter 7 representatives including Joe González, Macdonell Principal Sandra García and TAMIU College of Education clinical associate professor and coordinator of Assessment & Special Projects Dr. Philip Roberson.
The  Macdonell LEC is one of five active  in Laredo.
           LECs are public school-based reading clinics that use a literacy intervention model. They benefit future TAMIU educators as well as elementary students by giving them supervised one-on-one experience with a struggling reader.
           "The model is a 'win-win' for future educators at TAMIU and the elementary students they tutor. Further, the tutors provide significantly positive role models for the students tutored. Teachers consistently report positive gains in student motivation as well as reading, writing, and overall academic gains," Dr. Roberson explained.
            He noted that the assistance provided by LULAC Chapter 7 helps to strengthen the LEC, improving its capacity.
           "An adoption like that provided the LULAC Chapter 7 is crucial to program delivery and enhances our offerings on this campus," Roberson said.
           TAMIU College of Education Dean Dr. Catheryn Weitman said the future is indeed bright for students impacted by the Macdonell LEC and all current LECs.
            "We anticipate that long-term performance data on participating students will show that the support provided by TAMIU tutors consistently leads to overall academic success. We hope someday to see LECs in all Laredo and Webb County schools and would be truly excited to help guarantee that reality," Dr. Weitman said.
             For additional information on the TAMIU Literacy Enrichment Center Program, please contact Dr. Roberson at 956.326. 3155, visit offices in the Sue and Radcliffe Killam Library, Suite 417 or email philip.roberson@tamiu.edu
             University information is also available online at tamiu.edu/coedu and on the University's social media sites on Facebook, Instagram, Twitter and YouTube.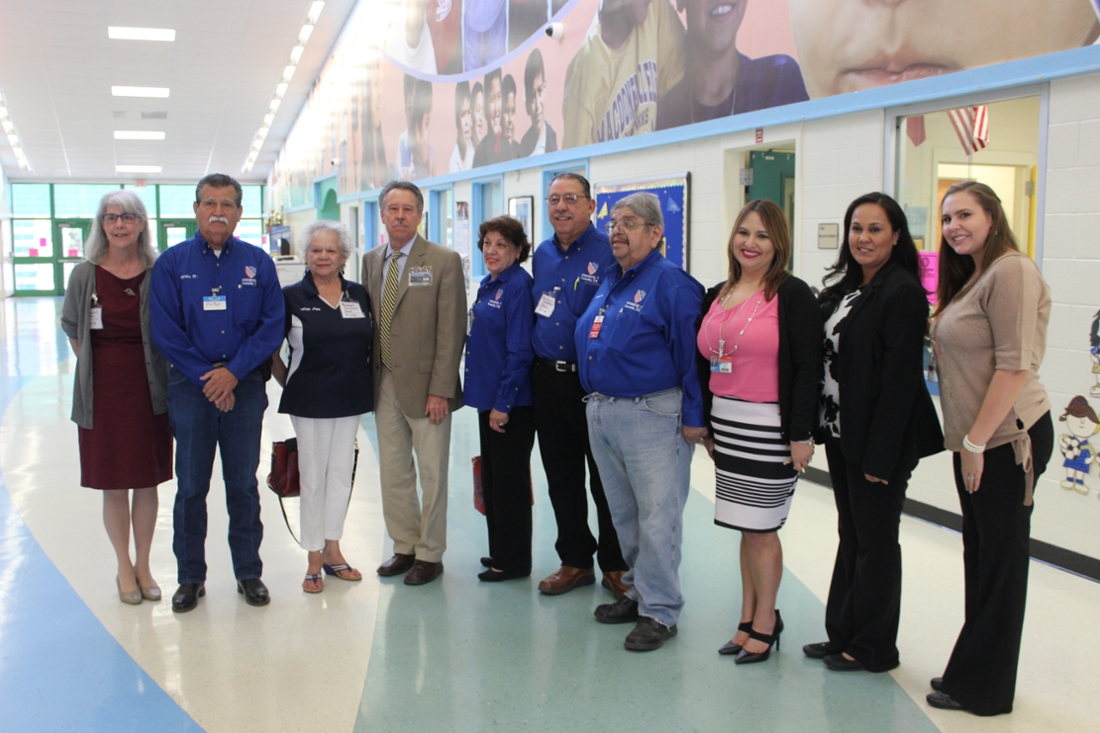 LULAC Chapter 7 Support
Students in the Macdonell Elementary School-Texas A&M International University Literacy Enrichment Center (LEC) will benefit from a recent adoption donation by LULAC Chapter 7 providing program supplies and instructional resources. Pictured, left to right are Dr. Catheryn Weitman, Dean, TAMIU College of Education; Guillermo Dougherty and Mary Peña of LULAC, Dr. Philip Roberson, TAMIU; Juanita González, José González  and José Coronado, LULAC; Sandra García, Macdonell Principal; Monica Calles, LISD Elementary Reading Dean, and Andrea Pawelek, TAMIU Literacy program. (Courtesy: LISD)