Posted: 11/19/15
TAMIU Celebrates National Nurse Practitioner Week

Texas A&M International University's (TAMIU) College of Nursing and Health Sciences, Dr. F. M. Canseco School of Nursing joined Nurse Practitioner colleagues across the nation in celebrating National Nurse Practitioners (NP) Week (Nov. 8-14).
The role of NPs as modern healthcare providers is more important than ever, especially in the context of growing primary care workforce shortages, said TAMIU Dean of College of Nursing and Health Sciences, Dr. Glenda Walker.
"The faculty, staff, and nursing students of the College of Nursing and Health Sciences want to thank all nurse practitioners for the amazing contribution they make to our community in providing health care, which is grounded in nursing.  Our health care community is enriched by their dedication and commitment to primary care. This is a growing field with tremendous need that offers our graduates impressive career opportunities. This December, we graduate a new cohort of TAMIU family nurse practitioners.  These graduates will join other outstanding nurses serving our community and beyond," Dr. Walker said.
Canseco School of Nursing assistant professor Dr. Mónica Urdiales Alleman said Laredo's nurse practitioners face the same challenges as others statewide.
"The challenges faced in Laredo right now mirror the issues experienced in other Texas communities: long wait times to see a primary care provider, after hours scheduling issues and decreased access to care for underinsured populations.  Texas needs an adequate supply of healthcare providers to help meet those challenges and our Canseco School of Nursing is working to address those challenges.  Nurse Practitioners in Laredo can help meet the needs of our community by providing high, quality affordable care that is local."
This year's national celebration was especially significant as it was the 50th anniversary of the first NP program in the United States, established at the University of Colorado.  There are now more than 205, 000 NPs licensed to practice in the United States and approximately 13,000 in Texas. 
"All across the country, Nurse Practitioners are on the frontlines of providing high quality, cost-effective healthcare," said Jan Zdanuk of Texas Nurse Practitioners.   "This year, Governor Abbott issued a proclamation recognizing the important work of Nurse Practitioners throughout the state and the vital role they play as healthcare providers in the community, " Zdanuk noted.
Today's Nurse Practitioner  (NP) is a registered nurse with advanced education and clinical training in a health care specialty. Most NP have national certification in an area of expertise. NPs are primary health care providers for healthy and ill children and adults. They work to keep people of all ages as healthy as possible through teaching people and treating their acute illnesses, such as infections, and chronic disease, such as diabetes.
The TAMIU nursing faculty includes 16 nurse practitioners who provide educational instruction at the undergraduate or graduate level.
For additional details on undergraduate or graduate nursing programs at the School of Nursing, call 956.326.2450, click on tamiu.edu/cson or visit offices in Dr. F. M. Canseco Hall, Suite 304.
Spring 2016 classes at TAMIU begin January 20. Registration is underway now.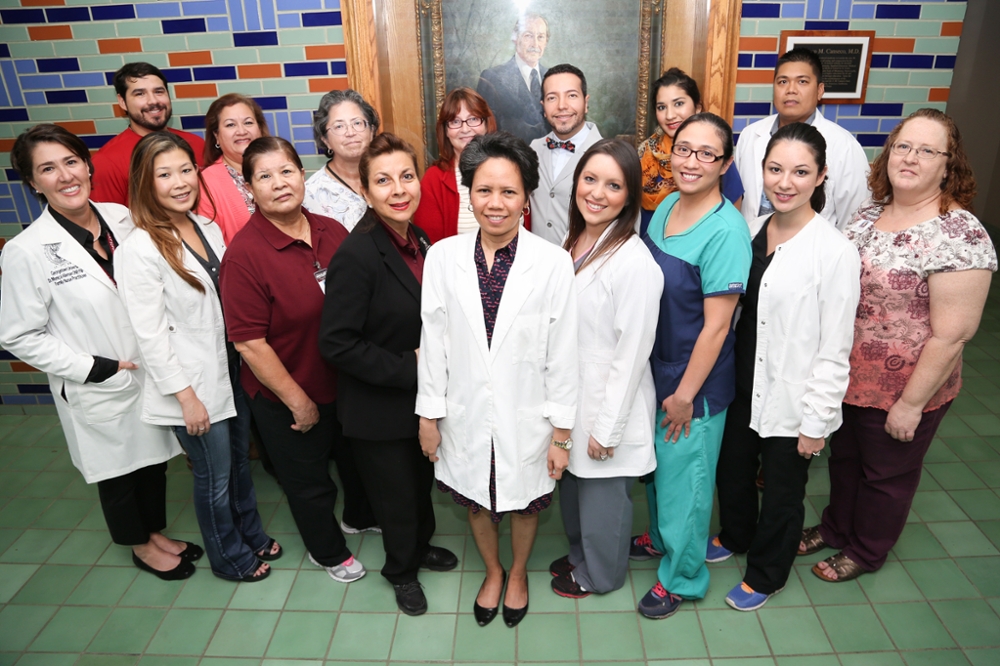 Members of the TAMIU Dr. F. M. Canseco School of Nursing faculty celebrate National Nurse Practitioners Week.