Posted: 1/07/16
Heritage Edition of Saint John's Bible Available for Viewing at TAMIU

This past Christmas, Texas A&M International University (TAMIU) received a remarkable legacy gift from The Matias De Llano Charitable Trust.
The gift, a Heritage Edition of The Saint John's Bible, was unveiled Dec. 15.
It is a massive seven-volume treatment true to the scale, beauty and artistic intent of the original manuscript, and is considered a work of sacred art. TAMIU became the first public university in Texas to be home to the Edition, one of only 299 worldwide.
An international team of calligraphers and artists produced the 1,165-page manuscript, which includes 160 major illuminations that frame a Bible for the 21st Century.  A broad spectrum of artistic styles, including iconography, abstraction, chrysography and illustration create a visual vocabulary for the sacred.
The seven volumes are bound by hand in a single piece of Italian calfskin leather and adorned with a solid silver clasp. The headbands are hand sewn in Pakistan.  Gold and silver foils are applied using a series of stamping and embossing processes and all illuminations are hand-treated.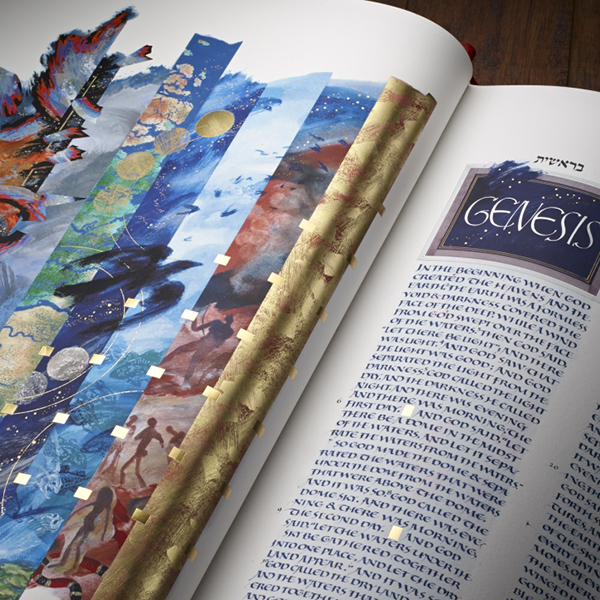 As a Bible for the 21st Century, the Saint John's Bible incorporates cutting-edge elements.  For example, illuminations are woven to feature strands of DNA and magnified images of viruses.  Satellite photos of the Ganges Delta and photos from the Hubble Telescope depict Creation. Contemporary images are paired with period images to create a text both alive and rewarding.
Other Heritage Editions of The Saint John's Bible are located at Yale University, the Vatican's Library and Museum of Art, Pepperdine University, and St. Martin-in-the-Fields, London.
For additional information on The Saint John's Bible Heritage Edition at TAMIU, please contact the Doug Ferrier, Killam Library director, at 956.326.2400.
University offices and the Library are now open.  The Spring Semester 2016 begins Wednesday, Jan. 20, 2016. Online registration is underway at tamiu.edu. 
Related Links:
Dedication Photo Gallery:
https://www.facebook.com/txamiu/photos/pcb.10153955858810730/10153955853755730/?type=3&theater
The Saint John's Bible Web Site: