Posted: 2/26/16
TAMIU Student Nurses Offer Fundraising First Stiletto 0.5K Saturday

Ladies (and gentlemen) it's time to kick up your heels at the first-ever Texas A&M International University (TAMIU) Student Nurses' Association Stiletto 0.5K Relay, Run & Walk on Saturday, March 5 from 8 -11 a.m. in front of the Sue and Radcliffe Killam Library.
A portion of registration fees will be donated to support TAMIU Dustdevil Paula Arias, who was diagnosed with Multiple Sclerosis this past summer.  Same-day registration will be $25 per couples and $15 for singles.
Faculty sponsor Dr. Julio Lujano said the historic event offers a fun experience for participants.
"It's admittedly adventurous, but our advance response has been very positive and we know that our students are excited about an opportunity to help another student in a historic way that's not been seen here in Laredo," Dr. Lujano said.
He noted that shoes for the event are already lined up and polished for action.
"When approached about this, guys were willing to participate, but their first question was 'where do I find shoes for this?'" Lujano recalled, "…That won't be a problem as we'll have an assortment of shoes available in large sizes for guys!"
Another incentive, Lujano observed, is that the Stiletto 0.5K is a strikingly short distance.
"This is a really short distance, which means participants can speed through in short order, or take their time, " he noted, "…but the end result is the same:  have some fun with your friends or significant other, take your time, or not, but know that you are contributing to a great cause and we are all happy to share in your fun," he concluded.
The TAMIU Student Nurses Association is a sanctioned TAMIU student club.  Its members are primarily undergraduate nursing majors.
For additional information, contact Dr. Lujano at 956.326.3113 or email julio.lujano@tamiu.edu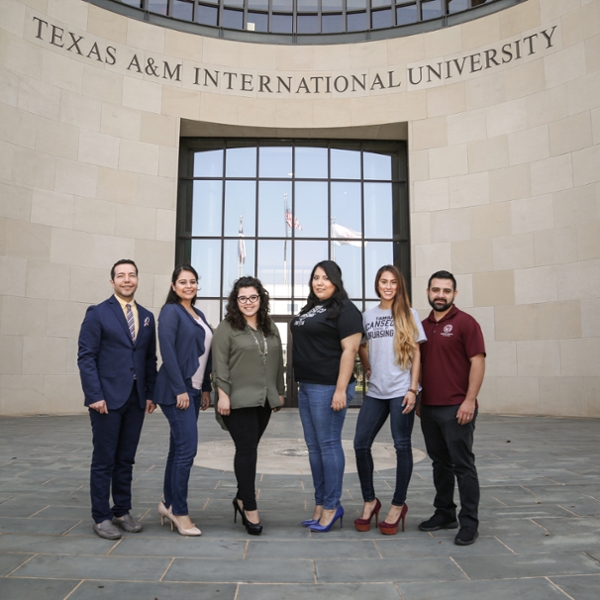 Dr. Lujano, Diana Gaytan, Andrea Martinez, Ladiz Ochoa, Joanna Avalos and Jose Cordova are ready to run.
Related Links: