Posted: 3/24/16
TAMIU Hosts Book Signing for Tejana Authors Tuesday, March 29

Texas A&M International University (TAMIU) will host a book signing for "Entre Guadalupe Y Malinche," the first-ever collection of Tejana literary and artistic production-writings from more than 50 authors and artwork from eight artists. Editor and contributor Dr. Norma Cantú, and authors Mary Sue Galindo, María Eugenia Guerra and Raquel Valle Senties will be at the book signing scheduled for Tuesday, March 29 from 6 – 7 p.m. in Senator Judith Zaffirini Student Success Center.
Admission is free and open to the public.
Dr. Cantú, a former longtime TAMIU faculty member, is a Professor at the University of Missouri- Kansas City and Professor Emerita at the University of Texas, San Antonio.
The collection attests to the rooted presence of the original indigenous peoples of the land now known as Tejas, as well as a strong Chicana/Mexicana feminism that has its precursors in Tejana history itself.
The anthology brings together the work of rising stars along with well-known figures such as writers Gloria Anzaldúa, Emma Pérez, Alicia Gaspar de Alba, Carmen Tafolla, and Pat Mora, and artists such as Carmen Lomas Garza, Kathy Vargas, Santa Barraza, and more.
For more information, contact Candy Hein, associate vice president, Office of Institutional Advancement at 326.4483 or visit offices in Sue and Radcliffe Killam Library 270B.
University office hours are 8 a.m. – 5 p.m., Monday – Friday.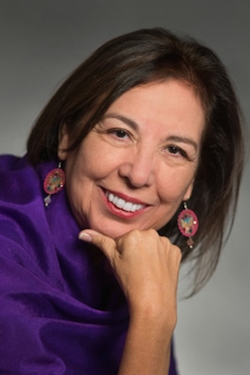 Dr. Norma E. Cantu, former TAMIU faculty member.