Posted: 3/31/16
Top Journalist Sheds Light on Mexican Politics, Economy Wednesday

            Hear from award-winning journalist Alfredo Corchado about the unique experience of being from the U.S.-México border and reporting on México's politics and economics at the next International Bank of Commerce (IBC) Keynote Speaker Series, Wednesday, April 13 at 7 p.m. in the Texas A&M International University (TAMIU) Student Center Ballroom.
            Admission is free and open to the public. A reception will start at 6:30 p.m.
            The lecture series is presented by the TAMIU A. R. Sanchez, Jr. School of Business Center for the Study of Western Hemispheric Trade and sponsored by IBC Bank.
            Corchado, México Bureau Chief for the Dallas Morning News, will present "Still Midnight in México? México's Challenges, Journalism and the Borderlands, and the New American Narrative."
He is the leading reporter on immigration and national security issues, particularly the drug-related violence which threatens México's national security and border communities. He has spoken about the issue at various international forums in Norway, West Africa, Great Britain, Canada, Sweden, South America, México and the U.S.
            His reporting has earned him several awards and he was a finalist for the Center for Public Integrity award in Washington for his reporting on Ciudad Juárez and the rise of a Mexican paramilitary group known as the Zetas.
            He was born in Durango, México and grew up as a migrant worker in California. He later moved to Texas, graduated from El Paso Community College and University of Texas at El Paso, and was named a Nieman Fellow at Harvard University.
            Corchado is currently the Walter Cronkite School of Journalism director of the Borderlands Program at Arizona State University.
            For more information, contact Amy Palacios, associate director, Center for the Study of Western Hemispheric Trade, at 326.2820 or amy@tamiu.eduor visit offices in Western Hemispheric Trade Center, room 221A.
Additional information is available at http://freetrade.tamiu.edu and https://www.facebook.com/tamiucswht.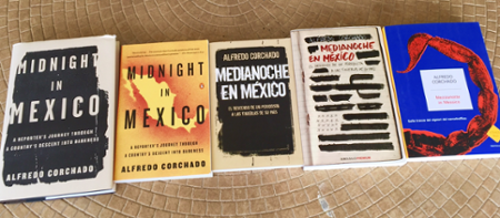 Corchado's "Midnight in Mexico" offers an unflinching view.