Posted: 3/01/16
TAMIU Students 'Going Polar' Friday for Special Olympics Benefit

A group of 100+ Texas A&M International University (TAMIU) students are readying to take a plunge that's freezin' for a reason.
They'll join the Special Olympics Polar Plunge, scheduled Friday, March 4 at 10 a.m. at the Inner City Pool, 202 West Plum Street.  The event is a fundraiser for Special Olympics' Texas-Laredo. Monies raised provide year-round sports training and competitions for 1,409 Special Olympics athletes in the Gateway City.
Last year, TAMIU students raised over $3,000 for Special Olympics Texas, and earned three trophies.
Dr. Randel Brown, TAMIU associate professor and chair, department of professional programs, is a long-time Special Olympics volunteer who annually encourages TAMIU students in efforts supporting Special Olympics.
"For the last several years, the students in our special education classes and communication disorders program have been recognized by Special Olympics of Texas for stellar participation as volunteers at fall and spring Special Olympics games, and in the past, our students have won first prize for raising the most money at the Polar Plunge event for Special Olympics," Dr. Brown said. 
Last year, TAMIU was selected for the Outstanding Service Award from a Civic or Service Organization for South Texas and was recognized at a Banquet in College Station.
 Over the last 17 years, the University has provided numerous volunteers and fundraising support for SOTX in the Laredo area. TAMIU professors encourage students to give back to the SOTX athletes in the community by embracing their talents and showing support through volunteer hours.
SOTX is a privately funded, non-profit organization that changes lives through the power of sport by encouraging and empowering people with intellectual disabilities, promoting acceptance for all, and fostering communities of understanding and respect.
 For more information, contact the TAMIU Office of Public Relations, Marketing and Information Services at 956.326.2180, email prmis@tamiu.edu or visit offices in the Sue and Radcliffe 268.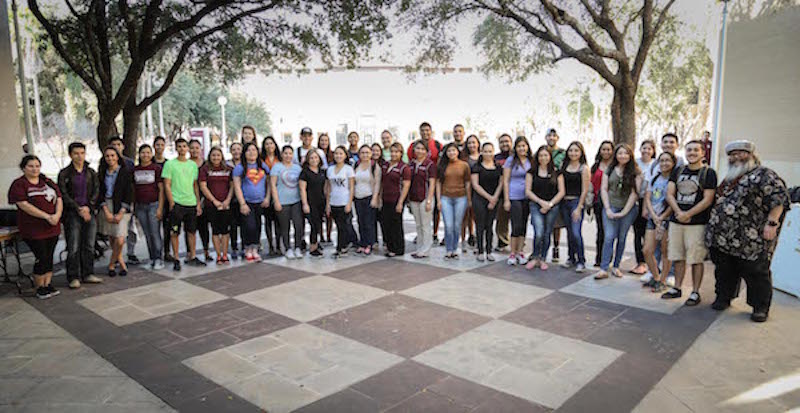 Team TAMIU is ready for Friday's Polar Plunge benefiting Special Olympics.