Posted: 3/25/16
TAMIU's Read-3 Family Literacy Program with HEB Stores Begins Friday

Texas A&M International University's (TAMIU) Read-3 Family Literacy Program provides a special opportunity for young children, aged two to four, and their families to embrace literacy and the brighter futures it makes possible.
This year's free TAMIU Read-3 Family Literacy Program will be offered over a six-week period beginning Friday, April 1.  The Read-3 program will continue every Friday thereafter, April 8, 15, 22 and 29.  A special TAMIU Read-3 Graduation Ceremony will be held on campus May 3.
 The Read-3 Family Literacy Program, initiated by HEB Stores and delivered in Laredo by TAMIU since 2012, has served some 300 families to date.  TAMIU College of Education students and future teachers are supervised in their program delivery by College of Education faculty.
Local partners helping TAMIU deliver the Read-3 Family Literacy Program include main and south branches of the City of Laredo Public Library and Ligarde Elementary School.  Any parent interested in the program can visit the sites and register for the Program.
 As the Program title indicates, the Program goal is that parents read at least three times a week to and with their little ones and that through the Workshop, children are exposed to literacy instruction and acquire basic literacy skills before begin or continue in school. 
Leading the expanded effort, now entering in its fourth year, is TAMIU College of Education assistant professor of Dr. Xuesong Wang.   She said the program has increased its target goal and is delivered in four linked components. 
"We hope to enroll 60-100 families in this year's Program.  We provide structured instructions on basic emergent reading skills to help children begin early reading experiences, parental involvement to better initiate interactive literacy activities with children, parental instruction on nutrition and conclude with a book drive that involves the community," Dr. Wang explained.
Wang said that her research to date shows that parents and children benefit from the Read-3 Literacy Program. 
"Our experiences and research data show that children and their parents really benefit from the program. Many parents have brought their friends to the new program based on past experiences.  We are all united in sharing a goal that not only helps young children and their parents now, but encourages and ensures sustainable development of literacy skills for young children so that they secure the brightest futures possible going forward," Wang concluded. 
TAMIU Dean of the College of Education, Dr. Catheryn Weitman, said the College continues to be enormously proud of the Read 3 Program collaboration with its partners.
"Dr. Wang's creativity brought the HEB Read-3 program from a single school setting to one serving a growing community of young readers and their families at various locations.  We are proud of her work with this very unique community program and to be able to collaborate with H.E.B. in helping families link reading with healthy living," Dr. Weitman said. 
As designed by HEB, the Read-3 Family Literacy Program provides families across the State with the tools and resources they need to help prepare early learners. The free workshops provide experiences in early literacy and nutrition for low-income children and their parents. 
For additional information on the Read 3 Program, contact Dr. Wang at xuesong.wang@tamiu.edu or call TAMIU offices at 956.326.3156.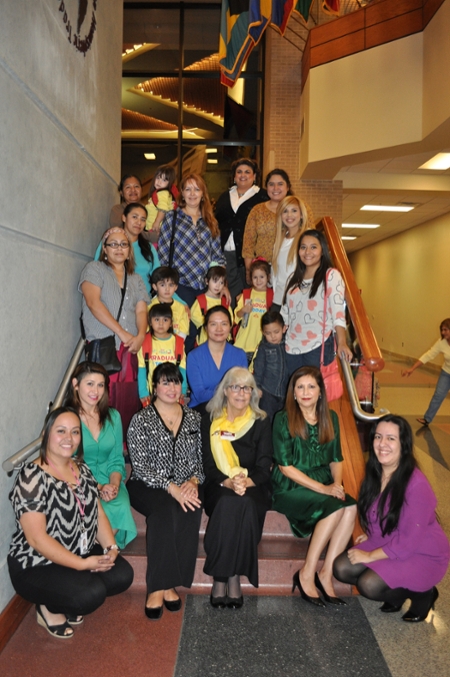 Families and faculty celebrate their reading  and teaching accomplishments.