Posted: 4/21/16
TAMIU University College Presents 8th Annual First Year Experience Academic Conference

Texas A&M International University (TAMIU) University College presents its 8th Annual First Year Experience (FYE) Academic Conference Friday, April 22 from 8:30 a.m.-4.30 p.m. in the Student Center Ballroom.
The event is free and open to the public.
The FYE Academic Conference is an opportunity for students enrolled in UNIV 1102 to showcase their research projects.  Students are introduced to the basics of research and prepare a poster presentation on topics related to their course.
 UNIV 1102 students will present projects on diverse research topics including politics, business, sports, conspiracy theories, evolution, dietary needs, literature, mindfulness, philosophy, and architecture, among others.
A focus of UNIV courses is to develop skills that will prepare them for college and professional career, said Dr. Conchita Hickey, Dean, University College.
"For many students, presenting at the FYE is a new and exciting experience since this will be the first time they showcase their research and presentation skills," Dr. Hickey said, "This year, a total of 700 students will have the opportunity to present their work. An additional 250 UNIV 1102 students will present at the Service-Learning Expo, scheduled Tuesday, April 26."
The Conference will feature approximately 20 groups presenting each hour for a total of 160 groups.
            For more information, contact Dr. Hickey at 956.326.2134, email university.college@tamiu.edu or visit offices located in the Senator Judith Zaffirini Student Success Center, Room 223J.
            University office hours are 8 a.m. – 5 p.m. Monday-Friday.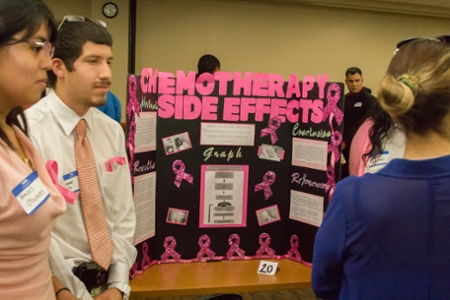 TAMIU students demonstrate their research at FYE Conference.