Posted: 4/21/16
Renowned NobleMotion Dance Company Performs at TAMIU Friday, April 22

Athleticism and cutting edge programming will merge into a breathtaking contemporary dance presentation by Houston's renowned NobleMotion Dance Company on Friday, April 22 at 7:30 p.m. in the Texas A&M International University Center for the Fine and Performing Arts Theater.
The performance is free and open to the public.
NobleMotion dancers, who will be in Laredo to provide master classes to TAMIU dance students and community dancers, will present from the best of their repertoire during Friday's public performance.
One of Texas' premier contemporary dance companies, NobleMotion Dance has received critical acclaim for its extraordinary athleticism and innovative programming. Located in downtown Houston, the dance company is a Resident incubator at the Houston Arts Alliance and is currently on the Texas Commission on the Arts Touring Roster. Its season includes three Houston productions a year and regular tours to New York City.
NobleMotion offers a broad repertoire and remains focused on creating new work that lives close to the nerves. Its mission is to integrate technology, theatre and dance and it employs two choreographers, two light and technology artists, and 10 dancers of varying styles from culturally diverse backgrounds.
Accolades for the NobleMotion Dance Company include over 30 positive local and national reviews and the company has been described as one of Houston's "A-list" dance companies in Dance Magazine. The Houston Press named NobleMotion Dance "Best Dance Company."
 NobleMotion Dance Company tours nationally and has been invited to perform by numerous organizations including The Dance Gallery Festival in New York City, Boston Contemporary Dance Festival, and the American College Dance Festival.
The three-day project at TAMIU is funded in part by the Texas Commission on the Arts, Guillermo Benavides Z. and the National Endowment for the Arts.
To watch video performances by NobleMotion Dance Company, visit https://www.youtube.com/channel/UCOYPcfi5LCMQOw24hNBVSWA
For more information, contact the TAMIU Department of Fine and Performing Arts at 326.2654, e-mail bleyendecker@tamiu.edu, or visit offices in the Center for the Fine and Performing Arts, suite 217.
University office hours are 8 a.m. – 5 p.m. Monday-Friday.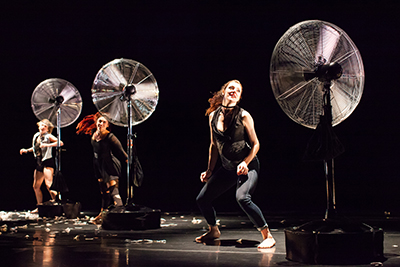 Athleticism and innovative staging and lighting define NobleMotion.