Posted: 5/17/16
Inaugural Graduating Class of TAMIU's Texas Academy Holds Exercises Friday

The inaugural graduates of the Texas A&M International University Texas Academy of International and STEM Studies walk into history Friday, May 20 with Commencement Exercises at 7 p.m. in the Center for the Fine and Performing Arts' Recital Hall.
The class of 40 students will be celebrated by two community leaders who helped make the Academy possible.
State Senator Judith Zaffirini will provide remarks.  Senator Zaffirini authored the Academy's enabling legislation, approved by the 79th Texas Legislature.
Also joining the graduates on their historic day will be Frank Staggs, retired educator and philanthropist who provided a generous donation supporting the Academy initiative. Partner The University of Texas Health Science Center of San Antonio's (UTHSCSA), Laredo campus, also helps fund the Academy.
            Heading the Top 10% of Class graduates are Valedictorian Adelie Perkins (103.584 GPA) and Salutatorian Talitha Wisner (103.261 GPA). Graduating third and fourth in the Class are David E. García, II (102.331 GPA) and Victor Rendón, (102.165 GPA).
Outgoing TAMIU President Ray Keck said he considers this initiative among the top highlights of his tenure at TAMIU, as it dynamically underscores the University's position as a catalyst of change.
"This bold and innovative educational opportunity is available to all Texans, right here in Laredo," Keck said, "The Academy changes young lives and exponentially expands their horizons by encouraging the creativity, curiosity, reasoning ability and self-discipline that leads to the independent thought and action that best fuels student development and a lifetime of accomplishment," Dr. Keck said.
He thanked Senator Zaffirini for her vision and tireless work in making the progressive concept of a STEM and International Studies academy possible at TAMIU.
"We are immensely grateful to Senator Zaffirini for her steadfast support of TAMIU and for helping us further our mission of preparing students for leadership roles in an increasingly complex, cultural diverse, state, national and global society," Keck said, "She has championed our University since its inception and continues to tenaciously do so."
Keck leaves TAMIU this month to become Interim President at Texas A&M University-Commerce.
Dr. Patricia Uribe, Academy director, said she is enormously proud of the student members of the historic cohort. 
"These students are pioneers…a family bound together by educational excellence.  I am confident that the future of each Academy graduate is incredibly bright as is the contribution each will make to our state and nation," Dr. Uribe said.
The Inaugural Graduates are Roy Aldrich, John Alewine, Pablo Arenaz III, Analyssa Ayala, Leonel Baldazo, Haydee Barrajas, Dorian Benitez, Derek Burr, Leopoldo Díaz, Maximiliano Díaz, Melissa Ferreyro, Gabriela Flores, David E. García II, Mickayla García, Jonathan Garza, Andrea Hernández, Edward López, Paloma Lozano, George Martínez and Maegan Martínez.
Also, Richard Martínez, Angie Maxwell, Edgar Montelongo, Abraham Nuñez, Marian Obregón, Sarah Ortega, Jesús Padilla, Tiffany Perez, Adelie Perkins, Cassandra Ramírez, Victor Rendón, Adan Rodríguez, Giovanni Salinas, Carla Santiago-González, Angelina Sauceda, Luís Sauceda, Erick Treviño, Kassandra Vásquez, Talitha Wisner and José Zúñiga.
The Texas Academy of International and STEM Studies provides academically motivated high school juniors and seniors with a challenging University-level curriculum and welcomed its first cohort in the Fall of 2014. Students can earn up to two years of university credit towards a Bachelor's degree  (tuition-free) while also earning their high school diploma.
Students receive free tuition, fees and books and are able to pursue University degrees in any area while exploring research and collaborative educational opportunities with Academy partners.
For additional information on the Academy, call 956.326.2860, email puribe@tamiu.edu, or click on http://www.tamiu.edu/coas/theacademy/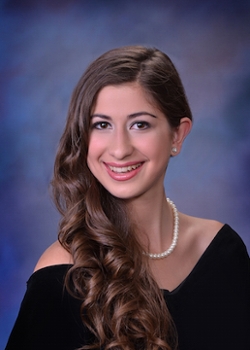 Adelie Perkins, Valedictorian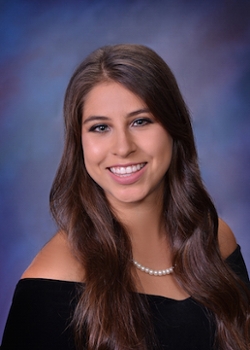 Talitha Wisner, Salutatorian