Posted: 5/05/16
TAMIU Enactus Named Regional Champions in Dallas Among 21 University Competitors

Social media management, website creation and a list of assistance provided to area small businesses helped propel Texas A&M International University (TAMIU) student organization Enactus to earn "Regional Champions" status at the Enactus Regional Competition held recently in Dallas.
TAMIU was one of nine teams to receive the Regional Champion Award. A total of 18 teams competed.
Enactus co-president David Canseco, a senior business administration major, was also offered an internship opportunity with chain retail warehouse club, Sam's Club at the Regional Competition.
TAMIU's team will next participate in the Enactus United States National Exposition May 15-17 in St. Louis, Missouri. The Exposition is a dramatic, energy-filled event, where teams showcase the collective impact of their community outreach efforts before business leaders.
TAMIU Enactus team members who participated in the Regional Competition and presented their projects before judges included Eustolia Morales, Idalia Ramos, Damian Sentien, Adan Soliz, Vanessa García, Cynthia Ontiveros, Daniela Reyna, David Canseco, Jesus Cavazos and Kimberly González.
 Enactus is a community of student, academic and business leaders committed to using the power of entrepreneurial action to enable human progress. Enactus students apply business concepts to develop community outreach projects, transform lives and shape a better, more sustainable world.
At the Regional Competition TAMIU Enactus members also received notification of individual awards earned for their service to the community.
Service Leadership Award recipients for their 100 hours of service are: Adan Solíz, Eustolia Morales, Jesús Cavazos, Veronica Martínez and Neftali Ibarra.
Platinum Service Leadership Award recipients for their 500 hours of service are: Daniela Reyna, David Canseco and Arely Hernández.
The students will receive certificates and badge recognitions in St. Louis.
 This year, TAMIU Enactus identified the need to empower small businesses in the face of strong competition from large corporations and companies that are starting to appear locally, said Canseco.
 "Some of the businesses empowered were Deadzone Paintball, La Chocolateka, Audiovisual, Atomic Elite Sports Complex and Pizza Ricco," he said.
Trainings Enactus provided to the businesses included understanding credit, basic record keeping, social media management, promotional video creation, radio commercial creation, website creation, implementation of point of sale system, coupon creations, flyer development, and environmental audits.
"We also helped them discover new and innovative ideas that will potentially attract more customers to their businesses," Canseco said.
At the Competition, TAMIU's team received compliments from business leaders, Canseco said.
"At regionals, we were one of the most talked-about teams and TAMIU was the first team to be called upon to receive its award," said Canseco, "Business professionals from Sam's Club, Wal-Mart and KPMG approached us to congratulate us on the impact our projects were having in the Laredo community."
For more information, please contact the Office of Public Relations, Marketing and Information Services at 326.2180, e-mail prmis@tamiu.edu or visit offices located in the Sue and Radcliffe Killam Library, room 268.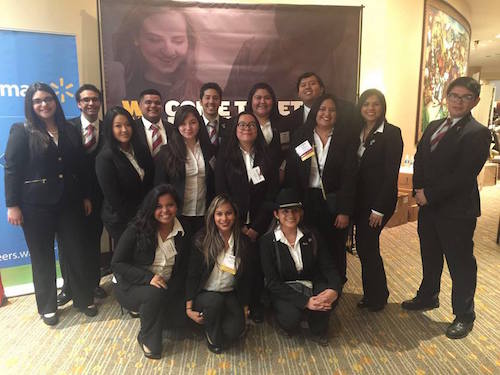 TAMIU Enactus members celebrate their victory at the Dallas competition.