Posted: 5/11/16
TAMIU Celebrates Spring 2016 Commencement Exercises Friday, May 20

A total of 680 candidates for graduation are expected to participate in Texas A&M International University's (TAMIU) Spring 2016 Commencement Exercises, which will be held in three separate ceremonies Friday, May 20.
The order of ceremonies, Colleges or Schools, times and locations are as follow:
Ceremony I: Friday, May 20, at 8:30 a.m., Kinesiology-Convocation Building.
For College of Arts and Sciences (undergraduate degrees only). 
Ceremony II: Friday, May 20, at 12:30 p.m., Kinesiology-Convocation Building.
For College of Arts and Sciences (graduate degrees only) and A. R. Sanchez, Jr. School of Business (all degrees). 
Ceremony III: Friday, May 20, at 3:30 p.m., Kinesiology-Convocation Building.
For College of Education (all degrees), College of Nursing and Health Sciences (all degrees), and University College (all degrees).
In the event of building capacity being met, audiences will be able to view ceremonies broadcast directly to the nearby Student Center.  It is recommended that audience members arrive early. Ceremonies are also livestreamed at links provided below.
The Commencement Speaker for the Spring Commencement will be Robert L. Albritton, Regent of The Texas A&M University Board of Regents.
Albritton earned his bachelor's degrees in economics and marketing from Texas A&M University. Upon his graduation in 1971, he was commissioned as a Second Lieutenant in the U.S. Air Force. 
He joined Texas American Bank as Senior Vice President in 1978. Shortly thereafter, he formed his first independent company, Albritton Development Company, which became the holding company for various operating entities including Mayfair Capitol, a merchant banking company with interest in a number of diversified businesses; Albritton Energy, a company involved in natural gas transmission and processing, as well as oil and gas exploration and production and Albritton Partners, a nationally recognized real estate development company. In 1988, he formed Mayfair Investments, LLC, and serves as its Chairman and CEO.
In 1994, Albritton and a partner started Railroad Controls Limited (RCL). Under his leadership, RCL became the largest privately owned railroad signaling and communications company in America before its sale in February 2015. Expansion of services to Class I railroads continued with the formation of RCL Wiring, LP in 2005 and RCL Burco, LLC in 2008. He currently is Chairman and CEO of the latter.
Now living in Fort Worth, he has served on numerous boards in both the public and private sector and remains active in several charitable and community organizations. He has also been active in the United States Golf Association and Southern Golf Association, and has qualified for numerous U.S. and British Amateurs competitions.
Albritton was appointed to the Board of Regents by Governor Greg Abbott in 2015. He currently serves as a member of the Committee on Finance and the Committee on Buildings and Physical Plant. He serves as a liaison to the Development Foundations of A&M System Members and The Texas A&M University Corps of Cadets and System Military Training Programs. His term expires February 1, 2021
A comprehensive, online Commencement guide is available at:  http://www.tamiu.edu/commencement/
Ceremonies will also be livestreamed at the following links: 
Ceremony I College of Arts & Sciences
Ceremony II College of Arts & Sciences -Sanchez School of Business 
Ceremony III College of Education, College of Nursing & Health Sciences and University College 
For more information, please contact the Office of Public Relations, Marketing and Information Services at 326.2180, email prmis@tamiu.edu or visit offices located in the Sue and Radcliffe Killam Library, room 268.
 University office hours are 8 a.m. – 5 p.m. Monday-Friday.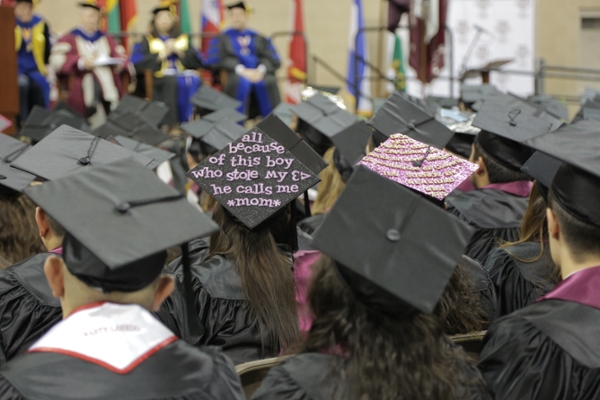 TAMIU Graduation Ceremonies are Friday, May 20, 2016.