Posted: 6/17/16
TAMIU, Texas A&M University School of Law Partnership Brings Historic Course on Borderlands Law to South Texas

A special course on borderlands law was recently presented for the first time at Texas A&M International University (TAMIU), giving life to a new partnership between TAMIU and the Texas A&M University School of Law. 
The inaugural offering of the course, entitled, Borderlands Law: Contemporary Legal Issues Relating to the U.S.-Mexico Border, was led by Professor Stephen Alton, associate dean of the TAMU School of Law, during TAMIU's Maymester session, from May 23 - June 3.
A select group, including students from the Texas A&M University School of Law as well as TAMIU undergraduate and graduate students, participated in the course, which addressed a range of borderlands topics including trade, transportation, business and banking transactions, immigration, border security, crime, human rights, oil and gas, energy, water, the environment and the Mexican legal system. 
"While Professor Alton served as the primary instructor, the course drew upon the expertise of guest speakers from the TAMU School of Law faculty, TAMIU faculty, and representatives of the Laredo business, political and legal communities," said Dr. Kevin Lindberg, TAMIU associate provost.
Dr. Lindberg noted that State Rep. Richard Raymond first conceived the idea that led to the innovative partnership between the two institutions. 
"Rep. Raymond, concerned that South Texas was legally underserved and that there was no legal education offered in Texas south of San Antonio, sought a law school partner to bring a course in international law to TAMIU," Dr. Lindberg explained.
Initial efforts with the University Texas School of Law were unsuccessful and the Texas A&M University System did not have a law school at that time, he said.
In 2011, the Texas A&M University System acquired the then Texas Wesleyan University School of Law in Forth Worth, which became the Texas A&M University School of Law in 2013, Rep. Raymond helped bring the TAMU Law School Dean Andrew P. Morriss into contact with former TAMIU President Ray Keck.
 "These gentlemen saw that not only could a course in International Law solve an immediate need, but that it could also help to develop a relationship with enormous potential between the institutions," Dr. Lindberg said. 
Lindberg said that the course, which will be offered again next summer, will continue to welcome promising TAMIU students with a strong interest in attending law school in addition to TAMU Law students.          
"In both cases, students must compete for slots in the course," Lindberg said.         
For more information, please contact Dr. Lindberg at 326.2601, e-mail klindberg@tamiu.edu or visit offices located in the Sue and Radcliffe Killam Library, room 333A.           
University summer office hours are form 8 a.m. – 6 p.m. Monday-Thursday and from 8 a.m. – 12 noon on Fridays.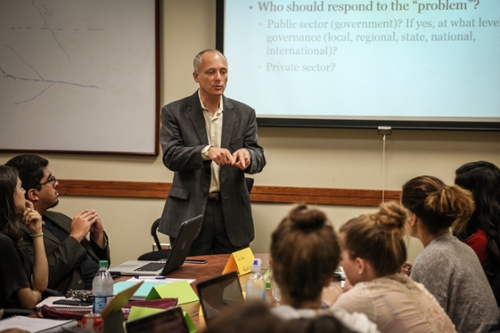 Gabriel Eckstein, professor at TAMU, lectures on Water and the Environment.