Posted: 6/09/16
International Sportsmanship Includes Cricket at TAMIU

Texas A&M International University (TAMIU) embraced the spirit of international sportsmanship by incorporating a Cricket tournament in its 2016 Spring Intramural Competition.
This marks the second year that TAMIU includes this sport in intramural competitions. Three teams, Spartans, Shooters, and Gladiators, contended in hopes of becoming 2016 Spring Cricket Intramural Champions.  The Spartans were victorious.
Cricket involves two teams of 11 players facing each other in the field, with a bowler (pitcher) throwing a bowl (ball) at a batsman. The batsman is expected to throw the bowl out of the field and get past the fielding team, with the goal of accumulating the highest number of runs.
There are many versions of this noble game, but the most popular is Twenty20, which spans three hours in play at most. Other popular versions of this game are Fifty50, played for one whole day, and Test Cricket, which can last up to five days.
Naveen Duddala, an avid TAMIU cricket player and member of the champion team, Spartans, shared the importance of all factors involved in this sport, including fan idols. 
"Everything about cricket interests me. Batting, bowling, fielding, are the most important activities in cricket. The Indian team has the best player, like Sachin Tendulkar, called the God of Cricket. He is praised by all cricket teams across Asia," he explains.
Kamesh Vedula, a member of one of the competing teams, said he'd like to see more local participation in this sport.
"We usually have around 45 to 50 Indian students on campus, and as you might know by now, cricket is a game that is not very popular here, and hence we don't have any participation from the local students," he explained.
Team members feel the incorporation of Cricket in the 2016 Spring Intramural competition attests well to the spirit of universal sportsmanship within the University. In addition, they say it displays how a sense of unity can be fostered through sports at TAMIU.
For more information on TAMIU intramurals, contact associate director of Recreational Sports,  Eric M. González, at 956.326.3018 or email eric.gonzalez@tamiu.edu.   -- This story by Spring Intern (and now graduate!) Sarahi Lopez.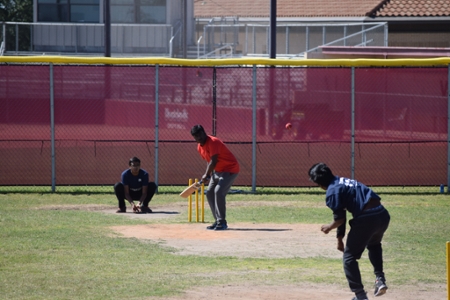 Cricket was part of Spring Intramural Competition at TAMIU.