Posted: 6/23/16
TAMIU Masters Nursing Grads Attain Historic 100% Passage Rate

Texas A&M International University (TAMIU) Master of Science in Nursing degree graduates in the Family Nurse Practitioner (MSN-FNP) Program realized their graduate degree diplomas were significant -- but now they also know that they are historic.
The eight graduates of the graduate MSN-FNP program earned a 100% pass rate on their national Certification Board Examination on their first attempt.
TAMIU Dean of the College of Nursing and Health Sciences' Dr. F. M. Canseco School of Nursing, Dr. Glenda Walker, said the coveted accomplishment catapults the Canseco School's graduate offerings to an enviable level, and advances the profession measurably.
"The future of health care will focus on disease prevention, and chronic disease management.  These new advanced practice nurses have the knowledge and skills to advance the profession and improve access for the citizens of Laredo," Dr. Walker said.
 "This is a significant accomplishment for our MSN-FNP program and makes us competitive with programs across the country. With continued refinement of the curriculum, this is a trend I expect to see continue going forward," observed Dr. Gwen George, College of Nursing and Health Sciences director of Graduate Programs.   
"As Board certified nurse practitioners able to practice primary care in collaboration with physicians, these graduates will begin helping to increase the number of quality providers locally. Together, they bring much-needed healthcare services to our medically underserved community," Walker noted.
All eight graduates are ready to contribute to the community's advancement.  They have either secured a clinical position, or are in the process of interviewing as Advanced Practice Nurse Practitioners (APRN) here.
Dr. Jaime Pinero-Pares, an emergency room physician at Laredo Medical Center, said the new graduates are indeed welcome additions.
"We whole-heartedly welcome these gifted nurse practitioners to the frontlines of medicine," Dr. Pinero-Pares said.
TAMIU's MSN-FNP is fully accredited by the Accreditation Commission for Education in Nursing. The Canseco School recently revised its curriculum to offer a three-year part-time option for those students who must work full-time while attending school, and a two-year full-time track for students able to work part-time while in school. Upon passing their national Certification Board Exam, MSN-FNP graduates are able to assess, diagnose, and manage clients across the lifespan in collaboration with other health care professionals.
In addition to the MSN-FNP, the Canseco School also offers a Master of Science in Nursing Administration (MSN-ADM) focused on the critical role of Nursing in Health Care Management. To explore TAMIU's graduate nursing programs, please contact director of Graduate Programs, Dr. George at 956.326.3114 or email gwendolyn.george@tamiu.edu. 
Undergraduate programs in Nursing include a Bachelor of Science in Nursing, considered the nursing profession's educational minimum, and an RN to BSN Online Transition program, which enables working RN nurses to complete their BSN completely online.  For more information on undergraduate programs, contact undergraduate admissions counselor Anna Buentello at 956.326.3110 or email nursing@tamiu.edu.
Additional information on the College of Nursing and Health Sciences is available online at http://www.tamiu.edu/cson/index.shtml.  Follow the Canseco School of Nursing at https://www.facebook.com/txamiu.nursing/
The first day of classes for the Fall Semester 2016 is Tuesday, Aug. 23, 2016.
Please visit www.tamiu.edu/registrar/registration for assigned registration dates, email registrar@tamiu.edu, call the Office of the Registrar at 956.326.2250 or visit offices in the Senator Judith Zaffirini Student Success Center, Suite 121.
Additional TAMIU information is also available at tamiu.edu and on social media sites on Facebook, Instagram, Twitter and YouTube.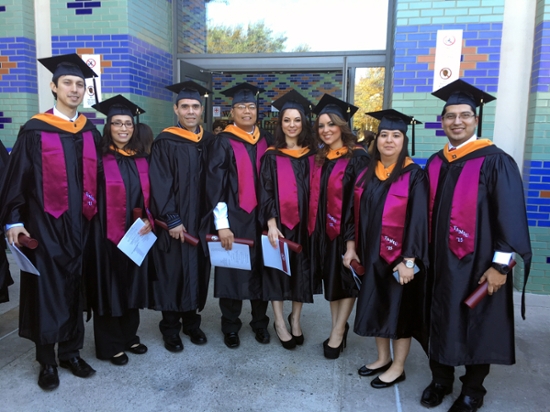 MSN-FNP Grads earning historic Certification Exam passage are, left to right, Gabriel Castilleja,
Elsa Morales, José Milera, Jan Demasiado, Elisa Alva, Tracey Morales, Jacqueline Váldez and 
Ignacio Ortiz.