Posted: 10/12/16
Stained Glass Window by Quiros Unveiled

A stained glass window, some 12  years in the making by Laredo-born artist Evan Quiros, was unveiled Friday, Oct. 14 at 5:30 p.m. at Texas A&M International University's Center for the Fine and Performing Arts foyer.
The remarkable work depicts K'inich Janaab Pakal, the legendary Mayan ruler of the city of Palenque, México from 615-683 AD.  The window recreates the famed sarcophagus lid of Pakal's tomb, studied by archaeologists after its 1948 discovery at the Temple of the Inscriptions, one of the most famous of the Mayan pyramids.
The completely handmade window uses classic stained glass techniques and glass fusing to create a multi-layered, multi-dimensional image.  The result recreates the color and vivacity of the original, five-ton, 12-foot lid.  Quiros completed the work in his studio in Fayetteville, TX.
Historians consider Palenque, under Pakal's rule, to have been a Mayan Florence and the center of advanced art, architecture, engineering and prosperity.  Recently, archaeologists at Palenque have discovered underground water tunnels that appear to have been created as a symbolic path to guide Pakal to the afterlife.
Quiros is a native of Laredo.   A graduate of Martin High School and the United States Air Force Academy, he served in Vietnam and was awarded the Silver Star, Distinguished Flying Star and five Air Medals. 
He is a rancher and retired businessman.  In addition to stained glass artistry, he is a writer and enjoys woodworking and restoring old cars.  He is married to artist Mary Elizabeth Leyendecker Quiros, an acclaimed watercolorist who has exhibited across the US and Japan.
The unveiling was part of the University's month-long Voces: Hispanic Heritage Month Celebration.
For a Slide Show on the creation of the Window, visit: http://evanandmary.com/524317/making-pakal-window/
For more information, contact the University's Office of Public Relations, Marketing and Information Services at 956.326.2180, email prmis@tamiu.edu, click on tamiu.edu or visit social media sites on Facebook, Instagram, Twitter and YouTube.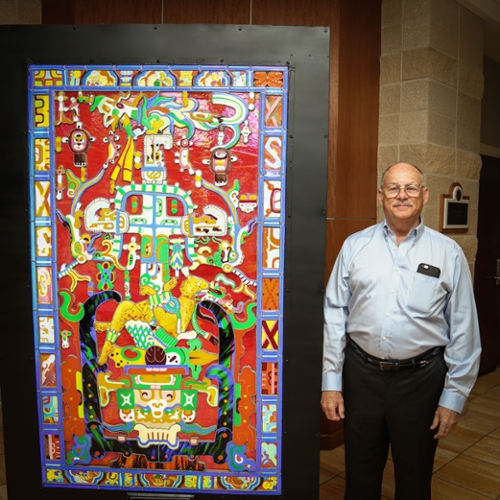 Artist Evan Quiros is pictured with his stunning Pakal Stained Glass Window, at home in the CFPA.