Posted: 11/17/16
VITA Program at TAMIU Benefits Both Students, Community

TAMIU students have an opportunity to sharpen their leadership and service skills by providing outreach tax services to qualified clients through the University's partnership in the Volunteer Income Tax Assistance (VITA) Program. 
Students join other volunteers for 16 hours of on-campus training and an exam to become IRS-certified to prepare tax returns.  After the training is complete, volunteers help prepare taxes at some 13 sites during the week and on the weekend, with an expectation that they will provide 30 or more hours of tax preparation assistance.  Laredo clients eligible for service must make $54,000 or less per year.
Dr. Jack Byham, assistant professional and TAMIU's VITA program coordinator, said the federally-funded program is designed to save low-income taxpayers tax preparation fees so that will receive the maximum return possible under the law.
"Last year the VITA program saved Laredoans over $1 million in tax preparation fees and brought back to Laredo over $12 million in tax returns," he explained.
He noted that greater numbers of TAMIU students are getting involved in the program, drawn by its leadership and community service components.
" As the program is headquartered here, students also have an opportunity to see how it links to the University's mission and outreach responsibility and be a part of this.  At TAMIU, our mission asks that  we 'prepare students for leadership roles in an increasingly complex, culturally diverse society.' Volunteering for the VITA program is an opportunity to hone one's leadership skills in just such an environment.
"In some cases, students will help non-English speakers with their tax returns, which requires responsibility. Also, after completing their volunteer obligation, students can continue to help others with their tax returns, if they are so inclined. These opportunities, and the program's impact, also align with our outreach responsibility. As our mission notes, TAMIU expects all members of our University community to 'improve the quality of lives for citizens of the border region.'  This program certainly does that in a direct, measurable way," he concluded.
Helping to ensure the program's growth and impact, Congressman Henry Cuellar ('82) recently secured additional funding of $80,000 from the U.S. Department of the Treasury's VITA Matching Grant Program.  This will help the TAMIU-led VITA program to increase its capacity to file tax returns electronically, enhance the training of volunteers and significantly improve the return accuracy rate.
For additional information, contact VITA at 956.307.8138 or email vitalaredo@tamiu.edu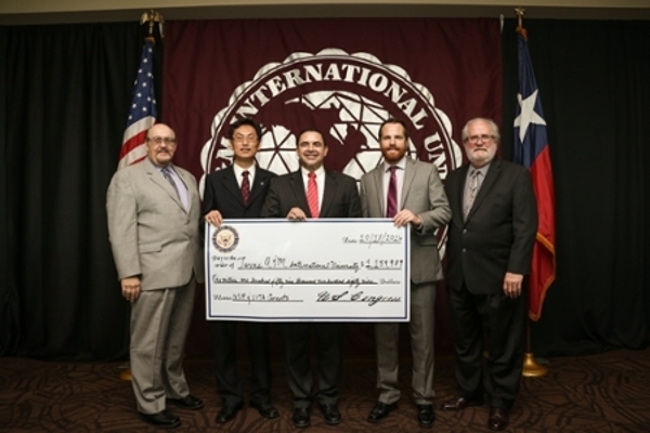 Congressman Cuellar ('82) celebrates the announcement of two TAMIU grants with (L to R),
TAMIU interim president Dr. Pablo Arenaz,Dr. Runchang Lin, TAMIU co-principal investigator;
Cong. Cuellar, Dr. Jack Byham, TAMIU-led VITA program coordinator, and Dr.  Tom
Mitchell, TAMIU interim provost.