Posted: 1/26/17
TAMIU Announces Leadership Changes

The new year at Texas A&M International University signals leadership changes at the University. TAMIU president, Dr. Pablo Arenaz, announced the changes effective this January.  Dr. Arenaz became TAMIU's sixth president in November.
"Consistent with our vision for growth and excellence, I have assembled a dynamic team of campus leaders who can achieve our plans for the future.  Some have served the University in other capacities, some will lead new initiatives… and all are recognized leaders in their field.  Together, we are committed to helping all our students realize their full potential at The International U," Arenaz explained.
Dr. Tom Mitchell, former Dean of the College of Arts and Sciences, has been named Provost and Vice President for Academic Affairs.
Dr. Claudia San Miguel, former chair of the department of Social Sciences, is Dean of the College of Arts and Sciences.  Dr. Peter F. Haruna, director of the Public Administration program, is Associate Dean of the College. Dr. Lynne L. Manganaro is interim Chair of the Department of Social Sciences.
Dr. James O'Meara is Dean of the College of Education. 
Dr. Catheryn Weitman, former Dean of the College of Education, is now Dean of University College.
The Office of Graduate Studies and Research and Sponsored Projects has been restructured with Dr. Jennifer Coronado as Dean of the renamed Graduate School.  Dr. John Kilburn will serve as Associate Vice President of the Office for Research and Sponsored Projects.
Dr. Mitchell has over 18 years of service to the University and 43 overall in higher education. A Texas A&M Regents Professor, he is a nationally recognized scholar on 19th century American novelist and short story writer Nathaniel Hawthorne, and holds a Ph.D. in English from Texas A&M University and his MA and BA in English from Northeast Louisiana University.
Dr. San Miguel, who directs the University's Criminal Justice program, earned both undergraduate and graduate degrees in Criminal Justice at TAMIU and her Ph.D. in Criminal Justice at Sam Houston State University. A Laredo native, she is the recipient of competitive grants totaling over $1.6 million. Her research interests include domestic human trafficking and she served as the first female Hispanic president of the Southwestern Association of Criminal Justice.
Dr. Haruna directs the University's Master of Public Administration program, accredited by the prestigious Network of Schools of Public Policy, Affairs, and Administration. A Fulbright Scholar, he holds his Ph.D. in Public Administration with a specialization in leadership and a Master of Public Administration from The University of Akron, Ohio. His Post-Graduate Diploma in Public Administration was earned at GIMPA in Ghana and his honors bachelor's  at the University of Ghana, Accra.
Dr. Manganaro is an associate professor in the department of Social Sciences.  She holds her Ph.D. from Arizona State University and her master of Public Administration from the University of Nebraska-Omaha (UN) and her bachelors, also from UN. Her research interests include cyber extremism, school crime, women's roles and gender roles and attitudes.
With 15 years as a collaborative college leader and 14 years of international teaching experience, Dr. O'Meara joins TAMIU from the National Louis University of Chicago, IL. O'Meara earned his Ed.D. in Curriculum and Instruction from the University of Ballarat, Australia.  He holds a masters in Distance Education from the Open University Milton Keynes, United Kingdom, and his bachelor's of Education from the University of Ballarat. O'Meara's research interests include the development of faculty in a global context and advancing education across cultures and in diverse, blended learning environments in rural and remote communities.  He currently serves as the president of the International Council on Education for Teaching, with active membership in key UNESCO groups.
Dr. Weitman earned her Ph.D. from Texas A&M University. Her masters of education was received from the University of Guam and her bachelor's  from the University of Missouri-Columbia. Her education research interests include formative assessment, active engagement, performance-based assessment, and early and middle childhood education. Funded research studies have included "Promising Neighborhoods," "Dawn of Exceptional Competence," "Success University: A Community Partnership," and "Truancy Prevention Program for Miami Beach Youth."
Dr. Coronado, associate professor of education, earned her Ph.D. at Capella University.  Her masters in education was received at Houston Baptist University, while her bachelor's was earned at Eastern Michigan University.  A recipient of The Texas A&M University System's Teaching Excellence Award, she has chaired the University's Institutional Review Board since 2012.
 Dr. Kilburn, a member of the TAMIU faculty since 2005, received his doctoral degree in Sociology from Louisiana State University (LSU). His masters in Sociology was also earned at LSU and his bachelor's in Sociology at the University of New Orleans. He is the co-author of Salvation City: Halfway House Stories and a former Academic Fellow with the Foundation for the Defense of Democracies in Washington, D.C.  He has received international recognition in the field of community corrections.  His research focuses on social justice, community development, and violence.  He has been funded by the National Institutes of Health, the National Science Foundation, and the Corporation for National Service. 
For additional information, contact the TAMIU Office of Public Relations, Marketing and Information Services at 956.326.2180, email prmis@tamiu.edu, click on tamiu.edu or visit offices in the Sue and Radcliffe Killam Library, room 268.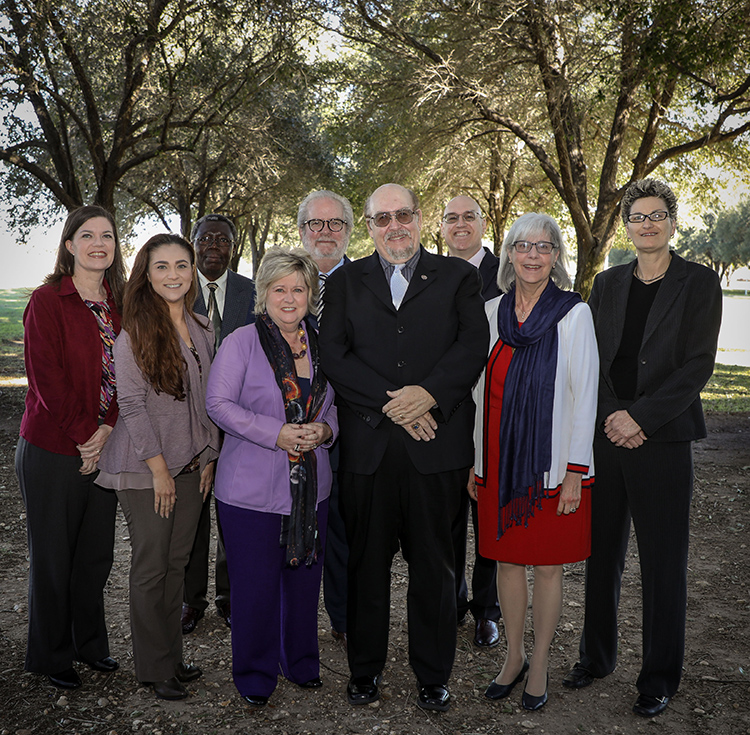 Academic Leadership Team at TAMIU
TAMIU president Dr. Pablo Arenaz welcomes TAMIU's academic leadership team including, left to right, front: Dr. Jennifer Coronado, dean, the Graduate School; Dr. Claudia San Miguel, dean, College of Arts & Sciences; Dr. Glenda Walker, dean, College of Nursing and Health Sciences; president Arenaz; Dr. Catheryn Weitman, dean, University College and Dr. Lynne Manganaro, interim chair of the department of Social Sciences. Back row, left to right, Dr. Peter F. Haruna, associate dean of the College of Arts & Sciences; Dr. Tom Mitchell, provost and vice president for Academic Affairs, and Dr. John Kilburn, associate vice president of the Office for Research and Sponsored Projects.  Not pictured, dean of the A. R. Sanchez, Jr. School of Business, Dr. Stephen Sears, and Dr. James O'Meara, dean of the College of Education.