Posted: 3/20/17
The Big Event Saturday; TAMIU, City of Laredo Ink Historic Engagement Accord

Texas A&M International University (TAMIU) will sign a historic Memorandum of Agreement (MOA) Monday, March 20, 2017 with the City of Laredo to enable sweeping student-powered community engagement initiatives.
The MOA will be held at 11 a.m. in the City of Laredo City Council Chambers, and brings together City and University representatives and student leaders.  On hand for the ceremony will be Laredo Mayor Pete Sáenz, City Manager Jesus Olivares, Deputy City Manager Cynthia Collazo, TAMIU President Pablo Arenaz, TAMIU Office of Student Conduct and Community Engagement Director Mayra Hernández, City of Laredo Community Development Director Arturo García, Keep Laredo Beautiful Executive Director Lynne Nava and Melissa Ortiz, Interim Executive Director for the Laredo Housing Authority. 
Hernández said the MOA with the City enables mutually beneficial collaborations.
"This makes it possible for our students to partner with the City of Laredo in mutually beneficial initiatives that advance the City and our students. The end result relevantly strengthens our community engagement initiatives through learning, service and research," Hernández.
She noted a significant example of this has been previous collaborations with the City for 
The Big Event, an annual TAMIU student engagement event.  This year's The Big Event, scheduled Saturday, March 25, 2017, is dedicated to the Colonia Guadalupe area.  
Students can register and participate here.  Learn more about The Big Event, including past Big Events.
"The Big Event, first offered at TAMIU in 2010, is our largest student engagement event, involving in excess of 500 student volunteers, all joining hands and hearts to work together and address a pressing community need.  We previously partnered with the City on Big Event efforts focused on Slaughter Park, neighborhood cleanup at Eistetter Park and services to Districts II and III," she observed.
City of Laredo Community Development Director Arturo García said the collaboration with TAMIU helps provide students with an insightful experience about community needs and more.
"This creates an experience for students to partner with City agencies to assess needs, coordinate services and measure their impact.  They gain keen insight into social issues, resources, assets and the importance of awareness of cultural climate when the needs of a dynamic community are addressed," said García.
The MOA also makes additional engagements and observations possible, Hernández noted.
"TAMIU students may also have opportunities to work closely with City representatives who can provide insightful experiences focused on managing funds, writing grant applications, or providing professional, consultation or facilitation services to a city…all critical elements in the daily life of any growing city,'' Hernández observed.
TAMIU will work closely with representatives from the City of Laredo's Community Development Department and the Laredo Housing Authority, NeighborWorks Laredo, Great American Cleanup by Keep Laredo Beautiful, among others.
The Community Development Department is charged with providing a better quality of life for the citizens of the City of Laredo particularly persons of low and moderate income by creating housing and economic development opportunities, facilitating public improvements, and promoting a clean, healthy, and safe environment.
The Laredo Housing Authority is dedicated to serving the diverse housing needs of families within its jurisdiction by increasing the availability of constructive, safe, decent, sanitary and affordable housing in its communities. It also strives to ensure equal opportunity in housing and promote self-sufficiency and asset development of families and individuals. It is also dedicated to improving resident quality of life and economic viability through high-quality client services.
NeighborWorks Laredo's mission is to provide and develop affordable housing opportunities as well as promote and preserve home ownership.
Keep Laredo Beautiful is dedicated to engaging the community, through partnerships between government, civic groups, businesses and volunteers to create a cleaner and more beautiful Laredo. It focuses on environmental stewardship and on litter prevention through environmental education and volunteer efforts.
Elizabeth Alonzo-Villarreal, CEO for NeighborWorks Laredo, said volunteers from NeighborWorks Laredo will also be participating in The Big Event.
"The NeighborWorks network highly promotes community service and the Big Event is doing just that," Alonzo-Villarreal said.
The Big Event, which began at Texas A&M University in College Station in 1982, has since been adopted by dozens of universities, serving communities across the nation. It has also become a global phenomenon with events in Germany, Italy, Pakistan and Spain, among others.
Hernández said after previous successful Big Event pairings with the City, the University is excited to formally partner with the City of Laredo.
"It's an exciting, historic opportunity.  TAMIU students are eager to 'pay it forward' -- to become effective leaders, responsible constituents and serve their community.  Many feel it is a shared obligation to give back to a community that has given them so much," Hernández concluded.
TAMIU students' remarkable level of community engagement service, estimated to have generated more than a $3,274,148.00 in economic impact since 2010, has been recognized twice with the Presidential Honor Roll Award for exemplary community service programs. 
For more information, contact Hernández at TAMIU at 956.326.2288 or mghernandez@tamiu.edu or visit offices in Student Center 226D.
University office hours are 8 a.m. – 5 p.m., Monday – Friday.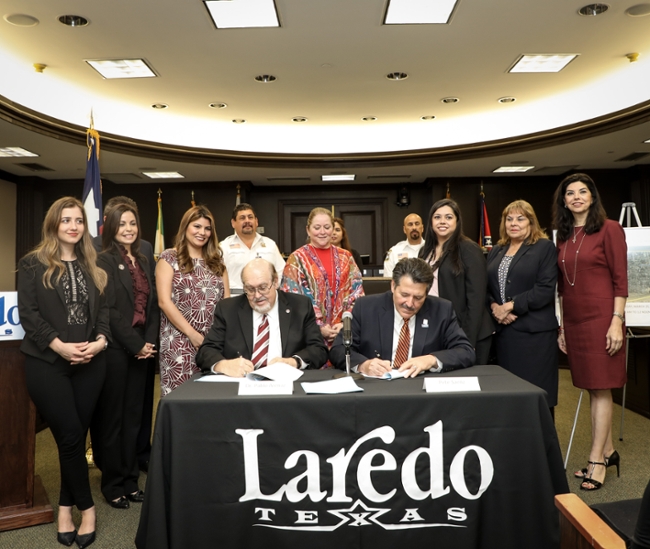 TAMIU President Dr. Pablo Arenaz joins Laredo Mayor Pete Saenz for the signing of an historic accord enabling sweeping student engagement initiatives between the City and the University, including this weekend's The Big Event in the Colonia Guadalupe.  Joining are TAMIU students and  representatives from the University, the City of Laredo's Community Development Department, Laredo Housing Authority, NeighborWorks Laredo, Great American Cleanup by Keep Laredo Beautiful, and others.