Posted: 4/06/17
Over 500 Young Readers and Parents Celebrated by H-E-B-TAMIU Early Literacy Partnership

Encouraging reading is good parenting.  That's why on Friday, April 7 at 6 p.m., Texas A&M International University (TAMIU) will welcome some 500 young readers and their families to a Graduation Ceremony in the TAMIU Student Center Ballroom to salute their reading accomplishment.
The Early Literacy Partnership, the Read 3 Literacy Program, is a shared initiative between TAMIU's College of Education, H-E-B, the Laredo Independent School District (LISD) and the Laredo Public Library.  It launched in Laredo in 2012, and has served over 800 families to date.  The six-week program offers a workshop-styled experience for parents and children, including nutrition sessions.
During the Read 3 Program, parents read with their children at least three times a week, while children get literacy instruction to acquire basic literacy skills from TAMIU College of Education teacher candidates studying in the teacher preparation program.
Over 80 TAMIU faculty and students helped deliver the early literacy workshops in the program in the last academic year. The 2016-2017 program offering also saw partners the Laredo Public Library and 20 LISD elementary campuses deliver nutrition workshops. 
Leading the expanded effort, now entering in its fifth year, is TAMIU College of Education assistant professor of Dr. Xuesong Wang.  
Dr. Wang said that her research to date shows that parents and children benefit from the Early Literacy Partnership.
"Our experiences and research data show that children and their parents really benefit from the program. Many parents have brought their friends based on past experiences.  We are all united in sharing a goal that not only helps young children and their parents now, but encourages and ensures sustainable development of literacy skills for young children, so that they secure the brightest futures possible going forward," Wang said.
"Participating in the program has also significantly changed the frequency by which parents read with their 3- or 4 year-old preschoolers.  On average, preschoolers enrolled in the program read at least 10 more children's books than otherwise, and learn more letters and alphabetic knowledge over the six week program," she noted.
 Christa Aldrich, H-E-B Literacy Program manager, said the Laredo program ideally delivers Read 3's main objectives.
 "H-E-B is committed to supporting public education in the state of Texas. The Read 3 literacy program has 3 main objectives: to help ensure that all Texas children enter kindergarten ready to read and ready to learn, to encourage parents and caregivers to read to their children at least three times per week, and to provide families with access to free and affordable books and literacy resources. The Read 3 Family Literacy Workshops hits all three of these areas. We are proud to have reached so many families in partnership with TAMIU, LISD, and Laredo Public Library. It truly is a team effort," Aldrich explained.
 TAMIU Dean of the College of Education, Dr. James O'Meara, said the College continues to be very proud of the Early Literacy Partnership collaboration.
 "Dr. Wang's creativity brought this program from a single school setting to one serving a growing community of young readers and their families at multiple campuses and locations.  We are honored to continue to partner with H-E-B in this visionary program that truly 'sees' the future and posts tangible results.  Parents can proudly partner with the Early Literacy Partnership, knowing it will help advance their child's success and future," Dr. O'Meara said.
 As designed by H-E-B, the Program provides families across the State with the tools and resources they need to help prepare early learners. In addition to workshop experiences in early literacy, the free workshops provide insight into the importance of good nutrition.
 For additional information on the Early Literacy Partnership, contact Dr. Wang at xuesong.wang@tamiu.edu or call TAMIU offices at 956.326.3156
 University news and information is also available online at tamiu.edu and on social media sites on Facebook, Instagram, Twitter and YouTube. 
For more, contact the Office of Public Relations, Marketing and Information Services at 956.326.2180, email prmis@tamiu.edu, click on tamiu.edu, or visit offices in the Sue and Radcliffe Killam Library, Room 268.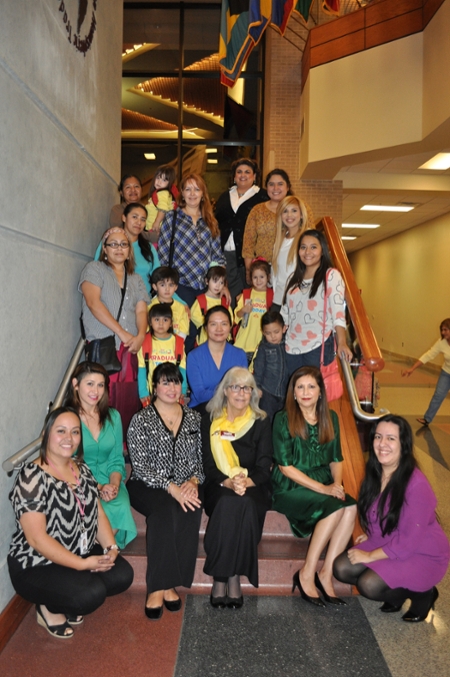 Past participants in the Read 3 Program have posted measurable success.