Posted: 3/23/17
TAMIU SBDC Celebrates SBDC Day at Austin Event

The importance of small businesses and their development in Texas was celebrated with the observance of Small Business Development Center  (SBDC) Day Wednesday, March 22 at the State Capitol.  Representatives from Texas A&M International University's SBDC attended.
The day-long observance, accompanied by proclamations by the House and Senate and the Texas Governor's office, served to bring awareness of the important services that SBDC offices provide and the opportunities for community businesses to learn and grow through SBDC programs.
The SBDC has been assisting small businesses in the community for over 20 years. The TAMIU SBDC is a unique partnership between TAMIU and the University of Texas at San Antonio, with its main office located in TAMIU's Western Hemispheric Trade Center.
Since 2011, the TAMIU SBDC has had a total of 2,961 new clients, and provided 14,364 counseling hours to new and existing businesses. In 2016 alone, some 63,000 businesses in the region were served.
Helping future entrepreneurs realize their dreams of owning a business and existing businesses grow is TAMIU-SBDC director Michael González's goal.
"The most common types of businesses we have served include retail, restaurants, transportation, logistics, manufacturing, insurance agencies, service providers, technology, optical, medical, investment companies and child daycare centers, among others," González explained, "So far, we have helped create 1,251 jobs in the community, and have assisted in 136 business expansions."
Gonzalez urged local businesses to contact him at 326.2827, email michaele.gonzalez@tamiu.edu or visit offices located in the Western Hemispheric Trade Center, room 226.  Information is also available on the website, sbdc.tamiu.edu
He noted the deadline for enrollment in a Small Business Management Certification Program is April 28.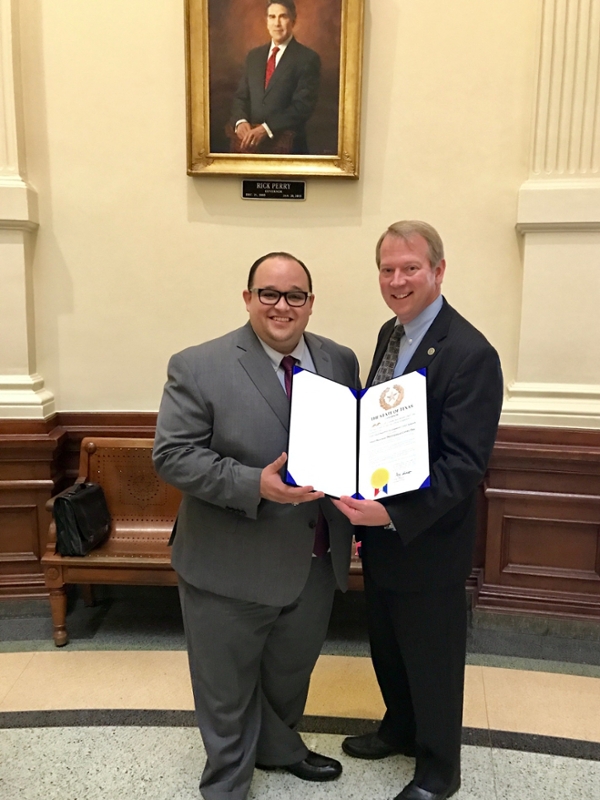 SBDC Day in Austin
Texas A&M International University director of the TAMIU-SBDC, Michael González, receives a proclamation for Small Business Development Center (SBDC) Day Wednesday at the State Capitol from Brad Knapp, Small Business Advocate, Office of the Governor