Posted: 3/09/17
TAMIU Students Volunteer, Present Abroad in Two Countries During Spring Break

This Spring Break will be no time for rest for two groups of Texas A&M International University (TAMIU) students who will travel to Honduras and Canada respectively to participate in volunteer work and attend a prestigious world conference. 
The first group of students will travel to Honduras March 10-18, and represent TAMIU and Laredo as volunteers with Global Medical Brigades, a non-profit organization that empowers communities to meet their health and economic goals through university volunteers and local teams. The group's advisor is Mayra Hernández, director of Student Conduct and Community Engagement. 
During their travel, TAMIU students will work with Global Brigades staff to assist Honduran families from underserved communities in Naranjal and Santa Rosa de Matias.
Rebekah Kawas, Global Medical Brigades Laredo Chapter president, said students will assist in providing primary health care to communities that have limited to no access to healthcare services. 
"Our team will shadow physicians, help do triage, distribute medications and provide health education," Kawas said, " We will also install showers, bathrooms and septic tanks over three days for two families with no current in-home facilities."
Last year, a TAMIU student group traveled to Nicaragua with Global Medical Brigades to conduct a similar community improvement activity.
TAMIU students traveling to Honduras are Queabet Perez, Rebekah Kawas, Adriel Mota, Ruperto González, Mabi Vázquez, Michelle Rivera, Erendira Pérez, Alexandra Fernández, José Longoria II, Andria Sáenz, Sarah Romero-Chong, Vanessa Flores, Jesse González, Jesus Marines, Mariana Reyes, Julian Quesada, Alyson Miller, Daniela Ramos, Daniella Saldivar, Raonaq Mia, Joshua Ochoa, Brittney Domínguez, David Martínez, Emilio Fernández, and Mariellen Haber.  
The second group of TAMIU students, members of the Model United Nations Society of South Texas, is already in Montreal, Canada until March 19, participating in the Harvard World Model United Nations (WorldMUN) Conference.
At WorldMUN, the group will present on issues that affect the world today, which they have researched, and will compete for various awards. 
Students traveling to Canada are Valeria Ortíz, Osvaldo Ariel Guzmán, Tabata Nayaj Rodríguez Talamás, Cesar Alfonso Ortega, Gabriel Maximiliano Martínez and Alberto Bautista. The group's faculty advisor is Dr. Jyotsna Mukherji, associate professor of Business, A. R Sanchez, Jr. School of Business.
WorldMUN is the most internationally diverse college-level Model UN conference, and the largest outside of North America. Every year, more than 2,500 currently enrolled university students from over 115 countries attend WorldMUN in different locations around the world. Past locations include Puebla, México; Geneva, Switzerland; Beijing, China; Belo Horizonte, Brazil; Sharm el-Sheikh, Egypt; Taipei, Taiwan; Singapore, and Vancouver, Canada.         
Through lively and informed debate, exciting social events, and a unique Conference spirit, the WorldMUN experience reaches across cultures and borders to inspire both cooperation and friendship.          
For more information, please contact the Office of Public Relations, Marketing and Information Services at 326.2180, email prmis@tamiu.edu or visit offices located in the Sue and Radcliffe Killam Library, room 268.
University office hours are 8 a.m. – 5 p.m. Monday-Friday.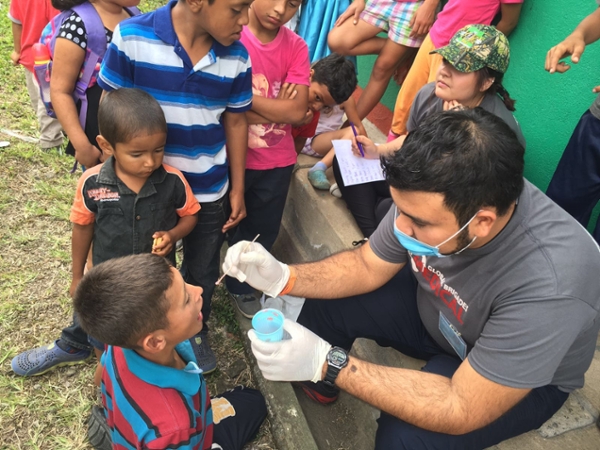 TAMIU's Global Medical Brigades group will help empower communities in Honduras over Spring Break.