Posted: 4/13/17
TAMIU Celebrates Earth Week 2017

While it is Spring, even maroon will be going  'green' at Texas A&M International University (TAMIU) April 17-21 as the University celebrates its weeklong observance of Earth Week 2017.
 Dubbed "Maroon is the New Green," the week offers five days for students to have good, green fun around campus and support the planet.   Students are being encouraged to share their TAMIU Earth Week observance on social media with #MaroonIsTheNewGreen.
 Things get started Monday, April 17 from 11 a.m. to 2 p.m. in the Breezeway between Dr. F. M. Canseco Hall and Pellegrino Hall with a recycling station for items including aluminum, plastic and paper, a trash toss for prizes and a refreshing 'Water Bar.'
 On Tuesday, from 8:30 a.m. -10:30 a.m., students can earn Community Service hours at an on-campus pond cleanup with free T-shirts and refreshments for volunteers.  Later, from 11 a.m. – 2 p.m. in the Student Rotunda, a food expiration label education session will be held.
 On Wednesday, it's all green thumbs up for a second Community Service hour opportunity to help beautify the Lamar Bruni Vergara Science Center Planetarium entry from 8:30 – 10:30 a.m. From 11 a.m. to 2 p.m. students can learn about composting and score free gardening goodies at the Breezeway.
 On Thursday, it's Judgment Day at the Recycled Art Contest, and a chance for students to make a personal Green Pledge on the Student Center Patio from 11 a.m. – 2 p.m.
 TAMIU Earth Week 2017 draws to bright green close on Friday, April 21 when TAMIU president Dr. Pablo Arenaz commemorates the University's commitment to sustainability with a park bench dedication at the Student Center from 10:45 – 11:15 a.m.
Other on campus activities by student clubs included an initiative by Sophomore Leaders Involved in Change (SLIiC). This group conducted a Food Recovery Awareness Project (FRAP) to expand awareness on the impacts of food waste on our planet. 
 TAMIU's Earth Week 2017 is being coordinated by the University's Environmental, Health and Safety Office, Housing and Residence Life and the office of the Vice President for Finance and Administration, in partnership with Schneider Electric, a global specialist in energy management and automation.
 TAMIU associate vice president for administration, Trevor Liddle, said the observance and partnership are part of the University's commitment to sustainability.
 "We are always striving to highlight ways that our University community can embrace a sustainable approach to life on our campus.  Whether it's recycling, smart irrigation or other initiatives, this kind of Earth Week partnership helps to underscore that commitment in an accessible and fun way.  This initiative with Schneider, a first for TAMIU, has great potential to make that commitment known, appreciated and, we hope, adopted and moved forward by all members of our University community," Liddle said.
 Schneider's 144,000 employees serve customers in over 100 countries, helping them manage energy and process in safe, reliable, efficient and sustainable ways. Schneider believes its connected technologies reshape industries, transform cities and enrich lives and have called this "Life Is On." 
For additional information on TAMIU and Earth Week 2017, call the University's Office of Public Relations, Marketing and Information Services at 956.326.2180, email prmis@tamiu.edu or click on tamiu.edu 
For more on Schneider Electric, visit www.schneider-electric.com.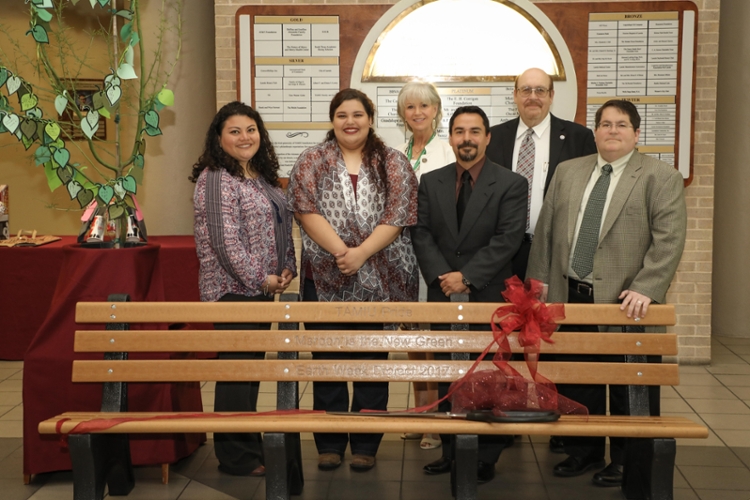 TAMIU's 'Maroon is the New Green' Bench
To conclude its weeklong Earth Week 2017 observance, Texas A&M International University and event partner Schneider Electric dedicated a new, recycled park bench for the campus.  Left to right, Jessica Perez, TAMIU environmental health and safety coordinator; Amanda J. Garcia, student employee;  Debra L. Jones, senior energy solutions specialist and program manager, Schneider Electric; Adrian Dominguez, TAMIU safety-risk manager; Dr. Pablo Arenaz, TAMIU president and Trevor Liddle, TAMIU associate vice president for administration.
Earth Week 2017