Posted: 4/24/17
National, Local LULAC Fund TAMIU Bilingual Ed Research

The role of Laredo and South Texas educators in the important history of bilingual education will take center stage in a new Texas A&M International University (TAMIU) research effort that's drawn funding support from Laredo's LULAC Chapter 7 and the national LULAC organization.
A combined gift of $3,000 supporting the purchase of audio/video recording and transcription equipment crucial to the project was announced today at TAMIU's Sue and Radcliffe Killam Library. LULAC national president Roger C. Rocha joined local LULAC Chapter 7 representatives. TAMIU president Dr. Pablo Arenaz and College of Education Dean James O'Meara welcomed the group.
College of Education associate clinical professor Dr. Philip Roberson is spearheading the project entitled "Border Teacher Stories:  The Emergence of Bilingual Education in South Texas," which will include an edited book of "teacher stories" and historical chapters, and a collection of supporting research materials.
"So many Laredo educators have had significant roles in the history of bilingual education, and have helped to move bilingual education to the forefront in both the classroom and in teacher education programs.  This combined local and national LULAC gift of support, coming from an organization that has long had a prominent national role in promoting bilingual education and Hispanic rights, is especially heartwarming," Dr. Roberson said.
José González, Laredo LULAC Chapter 7 vice president, said that the group is honored to help support the research initiative.  He was joined by Chapter 7 president, Paty Valero.
"We are excited to be a part of this project which will finally document the impact and importance of bilingual education and how Laredoans and South Texans have been fundamental to what is now a part of classrooms everywhere.  Bilingual education and Hispanic rights are forever linked and it's important that our LULAC Chapter advance this research and celebrate the knowledge that will be shared and available for generations to come," said González.
In addition to the edited book scheduled as part of an Information Age Publishing book series edited by TAMIU professor of Education, Dr. Tonya Huber, the proposal has also been accepted for presentation at the International American Studies Association 8th World Congress at TAMIU in July.  The long-term project will also include a digital collection of videotaped "teacher stories," and supporting artifacts to be affiliated with TAMIU and the Sue and Radcliffe Killam Library, Roberson explained.
"This project has great potential for TAMIU to not only recognize the important role of these educators and Hispanic rights advocates, but to foster public support for the University and our teacher education program.  I also believe that exhibit artifacts will provide a rich resource of supporting materials for continuing research on bilingual education and Hispanic rights," he noted.
Roberson said an additional benefit of the LULAC partnership will be the ability to reach out to LULAC contacts with roots in Laredo and South Texas, who can advance the project through research interviews or related connections.
"We'll be attending the LULAC national convention in San Antonio in July, accompanied by summer VISTA members who will staff the project as bilingual interviewers and transcribers so that interviews and Spanish/English transcription may begin this summer," he added.
Those interested in additional information about the "Border Teacher Stories:  The Emergence of Bilingual Education in South Texas" initiative, especially those who might provide contacts for "teacher stories," can contact Dr. Roberson by email at philip.roberson@tamiu.edu.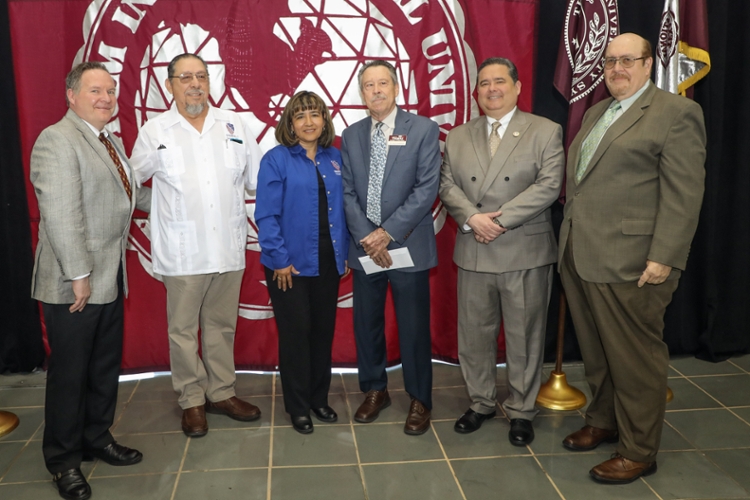 LULAC Partners with TAMIU on Bilingual Ed Project
Members of the national LULAC and local LULAC Chapter 7 joined Texas A&M International University representatives to announce their combined gift support of $3,000 to help TAMIU Bilingual Education research that will document the important role of Laredo and South Texas educators in bilingual education. Left to right, College of Education Dean Dr. James O'Meara, Jose Gonzalez, Chapter 7; vice president Paty Valero, LULAC Chapter 7 president;  research project leader and TAMIU professor Dr. Philip Roberson, Roger C. Rocha, LULAC national president, and  Dr. Pablo Arenaz, TAMIU president.  Local bilingual educators are encouraged to share their stories for the project.