Posted: 5/22/17
TAMIU College of Nursing and Health Sciences Pins Nursing Candidates in Moving Ceremony

Texas A&M International University (TAMIU) College of Nursing and Health Sciences' Dr. F. M. Canseco School of Nursing candidates for Spring 2017 graduation held their traditional pinning ceremony Thursday at TAMIU'S Center for the Fine and Performing Arts' Recital Hall.
In addition to the pinning, the 78 candidates participated in the Florence Nightingale Candle Lighting and recitation of the "Nurses Pledge."
A highlight of the event was a special presentation by Dean Dr. Glenda Walker to family of the late Dr. F. M. Canseco and Consuelo Canseco, in a moving 20th anniversary observation of the impact of the Canseco family's gift which made the College and Canseco School of Nursing possible. 
The candidate student graduates and their degrees were:
MSN Candidates
Feb Ray Demasiado, BSN, RN.
RN/Bachelors of Science in Nursing Candidates
Roberto Argüelles, Claudia Hourigan, María Mares, William Prachyl, Maria Wulwick and Matthew Yanta. RN/BSN candidates are students who hold associate degrees, are RNs,  and have completed their Bachelors degree in Nursing.
Bachelors of Science in Nursing Candidates
Karla Aguirre, Jorge Alemán, Jessica Almaraz, Jeanet Alvarado, Stephanie Alvarado, Annahly Alvarez, Alejandra Barerra, Carolina Barrón, Leslie Berlanga, Martha Bueno, Chelsea Capello, Itzamara Cárdenas, Jazmine Castro, Andrea Cavazos, Dariela Chávez, Marylou Corona, Virginia Cuevas, Elizabeth Díaz, Reynaldo Díaz, Jessica Escalante, Adeliza Espinosa, Priscilla Flores, Mariana Galván, Amanda García, Gloria García, Crystal Gardner, Ana Garza, Laura Genis, Americo González, Amy González, Paola González, Michelle Guerra, Alejandra Landa, Stephanie Leal, Eunhyang Lee, and Delia Lerma.
Also, Paulina Limón, Melissa Luna, Kimberly Marquez, Alessandra Mata, Verónica Medina, Kazandra Menchaca, Armando Mendiola, Satya Morales, Ozias Morzaldi, Oscar Navarro, Abigail Ortíz, Adriana Pérez, Dinorah Pérez, Leticia Pérez, Maritza Pérez, Lizbeth Ramírez, Arturo Rangel, Sofia Regalado, Jason Rivera, Lauryn Rodríguez, Zulema Rodríguez, Hector Rosas, Ariana Ruiz, Esteban Salinas, Jema Sánchez, Stephanie Sánchez, Claudia Serna, Jazmin Torres, Kristine Treviño, Marisela Treviño, Reynol Vela, Santa Velasco, Carolina Venegas, Yanira Villaneuva and Melissa Vital. Candidates for the BSN have completed  a four-year program of study.
Since 1997, a total of 811 TAMIU undergraduate and 93 graduate nursing degrees have been earned through the Canseco School.  The original class numbered 12. In 2017, 78 nursing students will receive their undergraduate degree.
The growth of the School of Nursing is also reflected in the percentage of male students now earning their degree. This year, 30 percent of the combined undergraduate and graduate student class is male.
Immediate job offers are extended to 100% of Canseco School of Nursing graduates. At least 85 percent are in the Laredo and South Texas region. 
The quality of educational experience for graduates is reflected in the 95% average pass rate for the national licensure exam.  Average annual starting salary for undergraduate degree holders is about $55,000, and $105,000 for those with graduate degrees.
For additional information on the Dr. F. M. Canseco School of Nursing and its programs, call Anna Buentello, admissions counselor, at 956.326.3110, email anna.buentello@tamiu,edu, visit offices in Canseco Hall 111, or click on: http://www.tamiu.edu/cson/index.shtml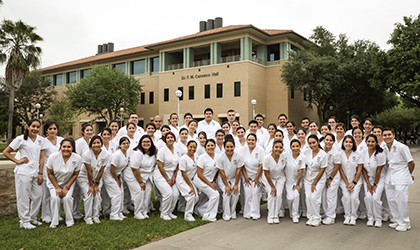 Spring 2017 Canseco School of Nursing Candidates.