Posted: 6/29/17
New Meadows Foundation Grant to TAMIU Strengthens Healthcare Delivery in Laredo, Region

A new $100,000 grant from The Meadows Foundation has been awarded to The Texas A&M University System for Texas A&M International University (TAMIU) to help strengthen a coordinated and integrated healthcare delivery network in Laredo and Jim Hogg and Zapata counties.
The Grant supports the Sí Texas Juntos for Better Health Grant administered by TAMIU's College of Nursing and Health Sciences' Dr. F. M. Canseco School of Nursing, said Canseco College of Nursing Dean Dr. Glenda Walker, grant principal investigator.
"This grant from The Meadows Foundation will provide vital support to help realize our Sí Texas - Juntos for Better Health Grant objectives through a linked constellation of education, outreach and services," Dr. Walker said. 
"We're focused on comprehensive healthcare and patient engagement using best practices, alongside an innovative patient education model delivered by our Canseco School of Nursing students in a community course.  We are also deploying a Traveling Health Care Team (THCT), a critical community outreach initiative that emphasizes primary screening and links to a medical home or mental health services. Primary screening is medical care assessment that includes glucose test, blood pressure, height, weight, BMI and behavioral health pre-screening. Service providers include Border Region Behavioral Health Center, City of Laredo Health Department, Gateway Community Health Center, and SCAN (Serving Children and Adolescents in Need), " Walker explained.
The THCT is now operational and onsite visits and services for individuals 18 and over who are residents of Webb, Jim Hogg and Zapata counties are scheduled through July 2018.  THCT services are offered free of charge.
TAMIU is a primary part of the inaugural cohort of the Sí Texas: Social Innovation for a Healthy South Texas Project, funded by Methodist Healthcare Ministries of South Texas, the largest, private, faith-based funding source for healthcare services in South Texas, and a program of the Social Innovation Fund of the Corporation for National and Community Service. The Project includes organizations in the Rio Grande Valley and Coastal Bend.    
Established in 1948 by Algur H. and Virginia Meadows, The Meadows Foundation has contributed greatly to enriching the lives of countless Texans in areas of arts and culture, civic and public affairs, education, health, and human services. Headquartered in Dallas, it has also developed high-priority grant making initiatives in support of the environment, public education, and mental health.

Since its inception, The Meadows Foundation has disbursed more than $1.1 billion to 3,500 Texas institutions and agencies. It also established the Wilson Historical District in Dallas, a 22-acre campus that provides 39 nonprofit agencies with rent-free space. The District includes the Wilson Block, which is listed on the National Register of Historic Places, and the Meadows Conference Center, which offers meeting space to nonprofit organizations at no cost.

For more on The Meadows Foundation, visit mfi.org
Additional information is available by contacting Walker at the TAMIU College of Nursing and Health Sciences, Dr. F. M. Canseco School of Nursing at 956.326.2574, by email at glenda.walker@tamiu.edu, or by visiting offices in the Canseco School of Nursing.
TAMIU summer office hours are from 8 a.m. – 6 p.m. Monday – Friday and from 8 a.m. to 12 noon on Fridays. University information is also available online at tamiu.edu and on social media sites on Facebook, Instagram, Twitter and YouTube.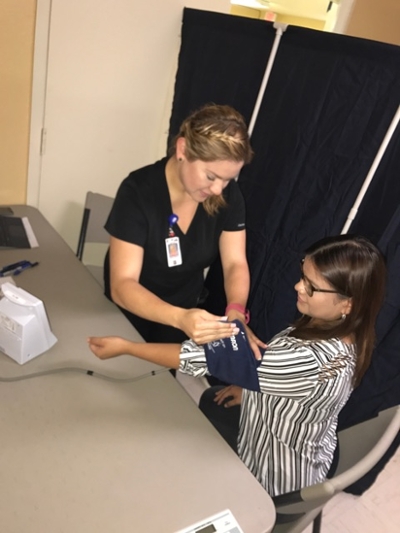 A Traveling Health Care Team will be supported by the Grant.